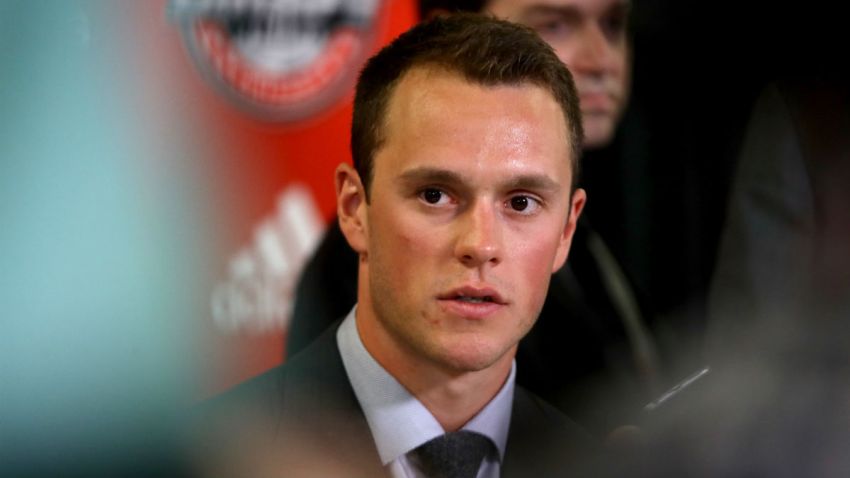 While the controversy over players kneeling during the national anthem continues to rage on, Chicago Blackhawks captain Jonathan Toews is worried that the dialogue over the issue has moved beyond its intended target.
In an interview with the Chicago Sun-Times, Toews says that he believes the conversation needs to move past whether or not it's offensive to kneel during the anthem, and to focus instead on real solutions for the societal issues that the kneeling is supposed to be addressing.
"The conversation has to get past this whole anthem thing and get to where it needs to go – if there's actually a difference being made in the end, and what changes are actually taking place," he said. "That's what I'm more interested in, rather than constantly hearing people talk about, 'Oh, is he standing or is he sitting?' The point's been made a long time ago. Let's move onto actually doing something that makes a difference."
Toews has become one of the more socially outspoken players on the Blackhawks, using his social media accounts to bring awareness to various issues including climate change.
The controversy over kneeling during the national anthem took on new life last week after President Donald Trump called for NFL players who kneel during the anthem to be "fired." The president also uninvited the Golden State Warriors from the White House after Steph Curry made critical comments about the administration.
During the controversy, which led to hundreds of NFL players demonstrating during the anthem at games last weekend, the NHL's Pittsburgh Penguins announced that they would still attend their ceremony at the White House.
Several players, including Joel Ward, Wayne Simmonds, and PK Subban, have addressed the controversy in recent days, with Ward and Subban both saying they will not kneel during the anthem.
Toews weighed in on Thursday, saying that he feels the conversation needs to be focused on concrete actions rather than over protesting during the anthem itself.
"I feel there's no doubt that there are some major issues that need to be talked about and dealt with," he said. "I just feel like the whole anthem thing has taken on a life of its own. Now it's become the focal point."