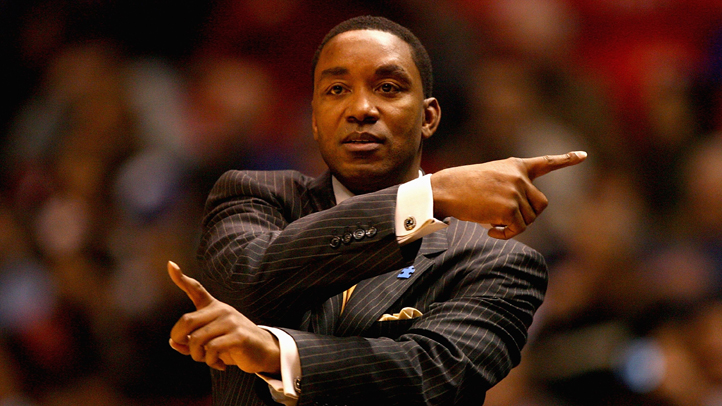 LeBron James has been having a rough week. Ok, not really, but he has been in the news of late because of Michael Jordan's comments which said, in part, that he'd pick Kobe Bryant over LBJ because, "Five is bigger than one."
Jordan is obviously referencing to the number of NBA Championship that Bryant has won compared to James, but Hall of Famer in his own right, Isiah Thomas, came to the defense of LeBron somewhat by saying that LBJ is a better athlete than MJ.
"They're both great players, and they're both great in their eras," said Thomas on Tuesday's "The Waddle & Silvy Show" while in Chicago to announce a basketball program aimed at high risk youth along with Mayor Rahm Emmanuel.
"In my era, we hadn't seen an athlete quite like Michael Jordan. He jumped higher than everyone else. He was a little faster than everyone else and he was just the best athlete. LeBron James is the best athlete of today, and he's probably a better athlete than Michael Jordan was. He's bigger, he's faster, he's stronger."
How Jordan saying he'd take Bryant – who fiercely guarded LeBron on defense in the fourth quarter of Sunday's All-Star Game – over James turned into an MJ vs. LBJ debate is anyone's guess. But it's the kind of thing that's been a constant topic of debate for the last few years.
So is Isiah right? Sure he is. LeBron James is the most gifted athlete playing basketball that we've ever seen. He's far more dominant physically than Jordan ever was. But when it comes to what really matters, being the GOAT (Greatest of All Time) is far better than being the GAOT (Greatest Athlete of All Time).
Follow Outside Shot on Twitter (@Outside_Shot) for more Bulls news and information