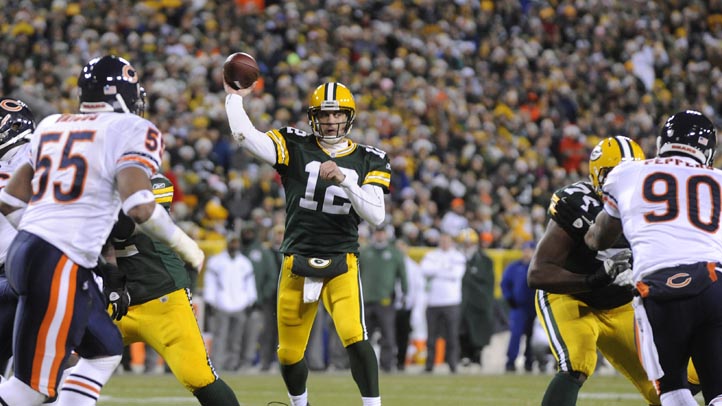 Aaron Rodgers played one of the best games in an MVP-caliber season as the Packers took out the Bears 35-21 in Green Bay on Sunday night. Rodgers threw five touchdowns and was 21-29.
The Bears had no answer for Rodgers, as the pass rush failed to disrupt him and the secondary couldn't cover the Packers receiving corps. Jordy Nelson caught six passes for 115 yards and two touchdowns. James Jones added two more, and Jermichael Finley had one on the first series of the game.
Unfortunately, Rodgers overshadowed what was the best Bears offensive performance since Jay Cutler went down with a thumb injury. Josh McCown, starting for the first time since 2007, was 19 for 28 with one touchdown and two interceptions. Kahlil Bell, starting in place of the injured Marion Barber (who was starting in place of the injured Matt Forte), had 23 rushes for 121 yards.
He made lineman Edwin Williams day, when Bell fumbled near the end zone. Williams picked it up for a Bears score. Kellen Davis had a late touchdown grab to add to the score. The frustrating part is that the Bears had more yards and time with the ball than the Pack, but it wasn't enough because of Rodgers' explosive performance.
Devin Hester was hobbled due to an ankle injury, and could not offer much help from special teams. Barber was injured, as well.
With that loss, the Bears are officially eliminated from the playoff picture. Next Sunday's game against Minnesota will be for nothing but pride.
Copyright FREEL - NBC Local Media