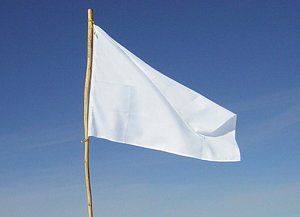 It takes a big man to admit he was wrong, and a bigger man still to actually fess up and apologize for his mistakes. And with the ubiquity of the Internet, it's easier for the divide between a scorned customer and a CEO in the wrong to become wider and wider.

As we shove off into another weekend, though, the Wall Street Journal has compiled an endearing list of 10 CEOs offering their video-confessional-style apologies for ways their companies have wronged their customers -- in light of Research In Motion co-CEO Mike Lazaridis taking to YouTube on Thursday to apologize for the BlackBerry service outages this week.
There's a lot to learn from this unusual movie marathon the WSJ has curated. First off, outside of Steve Jobs or Bill Gates, it's tough to think of someone as the face of a company who so readily hops into the spotlight and embraces it.

We won't name names, but it's interesting to see how stilted or uncomfortable some of these CEOs look in front of a camera, eating crow. Some say the right things but their discomfort makes their words ring hollow or false. Some opt for a bizarre chill-out music bed to play behind their cool and collected stares into the camera, like Sony's Kazuo Hirai in his five-minute mea culpa for the prolonged PlayStation Network outage earlier this year -- a hacker attack so seismic it's warranted its own Wikipedia page.
The WSJ also times how long it takes each CEO to actually say they're sorry. Curiously, Groupon's Andrew Mason is the second slowest to utter those magic words -- the biggest laggard is BP's Tony Hayward at 38 seconds -- but there's something quite moving about his apologies for the debacle that was Groupon Japan's New Year's deals.

For those who don't recall, Yokohama-based restaurant Bird Cafe angered and disappointed many customers in Japan when it failed to keep pace with the inundation of orders it got for an osechi meal delivery. The sheer volume of orders resulted in food that, by Mason's own admission in this video, was in "terrible condition."
This video, which hasn't gotten much play in the US since it was targeted to an entirely different hemisphere, shows a different side of Mason. He's sincere and caring, and not the flippant goofball he seemingly tries extra hard to portray himself as.
"We created Groupon to help enrich people's lives by bringing new, exciting experiences to them, so when we do the opposite, as we did in this case, it really hurts," Mason says. "We're on the forefront of trying to figure out how to bring local commerce to the Internet, and as we do that we're going to hit bumps in the road. We've made mistakes before and we're going to make mistakes again."
Just remember, when you read all those attacks on Groupon -- there's a human being behind all of this.

Mason, we love you, baby. But don't take our word for it -- check it out yourself.