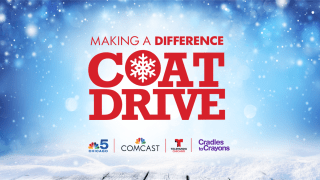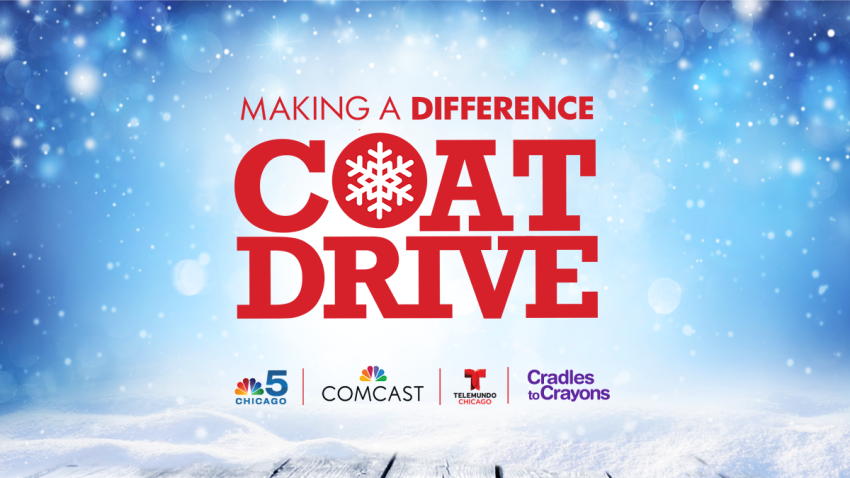 Now more than ever, people in our community are counting on acts of kindness from their neighbors to make it through the holiday season.
Give the gift of warmth this year by donating to the NBC 5 and Telemundo Chicago Making A Difference Coat Drive.
This year you can go to Amazon and send a coat directly to Cradles to Crayons, an organization committed to providing local kids everyday essentials when they need it the most. You also can drop off a coat at any of our donation locations (list below).
Join us and let's make a difference together!
See below for a full list of collection locations and dates.
Acorn Library
15624 Central Ave., Oak Forest
Monday - Thursday: 10 a.m.-8 p.m.
Friday & Saturday: 10 a.m.-4 p.m.
Sunday: Closed
Bank of America Buffalo Grove
1300 N. Arlington Heights Road, Buffalo Grove
Drop box open 24/7
Bank of America Naperville
1301 E. Ogden Ave., Naperville
Drop box open 24/7
Fifth Third Ice Arena
1801 W. Jackson Blvd., Chicago
Open daily from 5:30 a.m.-11 p.m.
Giving Factory
4141 W. George St., Chicago
M-F from 9 a.m.-5 p.m.
Greater La Grange YMCA
1100 E. 31st St., La Grange Park
Monday-Thursday 5:30 a.m.-8 p.m.
Friday 5:30 a.m.-6:30 p.m.
Saturday-Sunday 7 a.m.-3 p.m.
Highwood Public Library
102 Highwood Ave, Highwood
Drop box open 24/7
Little Beans Café Evanston
430 Asbury Ave., Evanston
Open daily from 8:30 a.m.-3:30 p.m.
South Side YMCA
6330 S. Stony Island Ave., Chicago
Drop box open 24/7
Sulzer Regional Library
4455 N. Lincoln Ave., Chicago
Monday-Thursday: 9 a.m.-8 p.m.
Friday-Saturday: 9 a.m.-5 p.m.
Sunday: 1 p.m.-5 p.m.