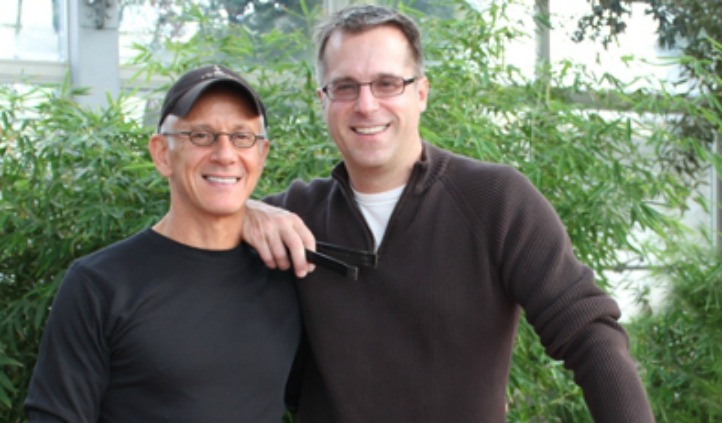 This Sunday, even when the hours of pre-show Oscars coverage starts rolling, there will be at least two guys in Chicago who will feel like huge winners regardless of who walks away with one of those golden statues: Terry's Toffee Co-Founders Michael Frontier and Terry Opalek. For nearly a decade, the pair's candies have been part of the Oscar's gift bag that folks involved with the show get. You couldn't pay for word-of-mouth marketing like that, and, amazingly it all started with Opalek just calling up the Academy and asking nicely if they would consider his wares. (Though he also credits self-help book The Artist's Way for much of his business' success.)
To further connect the dots, I gave Opalek a call.
So how did you go form a holiday craft fair to being part of the Oscars gift bag?
Terry Opalek: It doesn't matter who you are or where you are or what you're doing or not doing -- it's following your intuition. Following that feeling in your gut that if something feels good, you want to do it. If it doesn't feel good, you don't want to do it, you're forced to do it anyway. It's about being true to yourself. A lot of us were told growing up that we were too emotional or too sensitive. My parents, especially my dad was like, "Think about it, think about it. Don't feel it. Think about it. Use your intellect." It always felt so challenging to me because I liked going with my feelings more, and that's what this has been all about for me. Trusting my gut. Going with my feelings.
The Oscars happened because I had this feeling like, "Wouldn't it be cool to get Terry's Toffee into the Oscars?" It was a question I asked myself, and the answer was, "Yeah, it'd be really cool. How do you do that?" So I looked up the Academy of Motion Picture Arts and Sciences, out in LA, and I called their office and asked to speak to the president. I got his assistant and I told her my story and said, "Do you ever put food items in the gift bag?" She said, "Yeah, occasionally we do." I said, "Well, I'd love it for you to consider us." She said, "Well, send us your product." I did and they fell in love with it. Now it's a special gift. It's our eighth year.
I realized that the toffee isn't the passion, it's the creativity, the connection, and all the fun things you can do. The toffee is just the vehicle.
What advice should entrepreneurs take from that story? Obviously not to talk yourself out of trying anything, but what else comes to mind?
Terry Opalek: I never wrote a business plan, I still don't have one. I never did. A lot of people think, "How could I leave the security of my job? I don't have the money to do this or do that." Or they get all caught up in writing the business plan, and I know somebody in particular who spent two years on a business plan and his idea was great but he spent so much time working on it he never did it. He never took that leap. To me, don't think about it too much. Yes you gotta be aware of what you're doing and be practical in a sense, but don't get all caught up in all of that to the point that you find yourself not doing it, because that is I think what can often happen. We won't take that step because all of the facts and figures and the business plan, what other people tell you, it may just all boil down to, "Oh my God, I can't do this. It doesn't feel right."
So, as it says in The Artist's Way: "Leap and the net will appear."
Terry Opalek: Absolutely. I think it isn't so important what you're doing but how you feel when you're doing it.
To leap back, so, when you sent them your product and they fell in love, what was the next step?
Terry Opalek: When I sent it to them, they had already decided on everything they were going to include that year. They did not select it that year. I didn't know the timing of things. The next year, late in the year, I got a call from them that they wanted to include our toffee in the gift bag that year. I was like, "Wow. They remembered us." That was the first year. I think the second year they had a production company take over and coordinate everything. It got really insane. The gift bag wound up being worth something like $100,000.
Like I said earlier, I've never gotten one of those gift bags, so I'll take your word for it.
Terry Opalek: [Laughs.] Neither have I. So, the IRS wanted to tax them for the value, I don't know if you heard of that.
I haven't, but that doesn't surprise me given how much a gift can legally be worth.
Terry Opalek: So, the people who were receiving this gift weren't just celebrities, they were writers and people behind the scenes who weren't paid for their work in the Academy Awards and they couldn't afford the tax bill, so a lot of them just refused it. They don't do a big huge swag anymore, they've put that off to the side but they still use Terry's Toffee as a gift to all of the nominees and presenters and VIPs.
In a way, isn't that better than winning?
Terry Opalek: [Laughs.] I kind of think so. I think that's pretty cool. I mean, you talk about winning. But, no, it's true. They use it now in the green room, in the dressing rooms, as a special gift to all the nominees and presenters and all that stuff.
I'd have to think that's had a positive impact on your business, right? What sort of perks have you gotten from having been featured in there so many years?
Terry Opalek: I think the biggest perk is it's made us pretty well known not only around Chicago but also around the country. And why shouldn't we be? Our stuff tastes really great. It's beautifully packaged and it tastes really good and we do 15 flavors of gourmet toffee, and it's a company that my partner and I are really passionate about.
I think sometimes it isn't that you need to take this big leap and leave your job necessarily, but you can begin to do things as simple as -- let's say you're in a job you're not satisfied with but not ready to leave because you have a wife and children or financial obligations that won't allow you to leave? Well, start by taking some small steps. It doesn't have to be a big leap. That's a relative term. How that happens for me is when I get out of my own way and begin to open up to what's happening around me, it's really truly amazing the people that I might meet or come into the store. They'll have the answer to something I'm thinking about. It happens to me over and over and over again. It could just be something as simple as starting to paint or taking a class. That can begin to give you hope. And when you have hope, then you begin to move forward.
That sounds like a great Oscar acceptance speech.
Terry Opalek: [Laughs.] Well, thank you. But it's true!
David Wolinsky is a freelance writer and a lifelong Chicagoan. In addition to currently serving as an interviewer-writer for Adult Swim, he's also a columnist for EGM. He was the Chicago city editor for The Onion A.V. Club where he provided in-depth daily coverage of this city's bustling arts/entertainment scene for half a decade. When not playing video games for work he's thinking of dashing out to Chicago Diner, Pizano's, or Yummy Yummy. His first career aspirations were to be a game-show host.