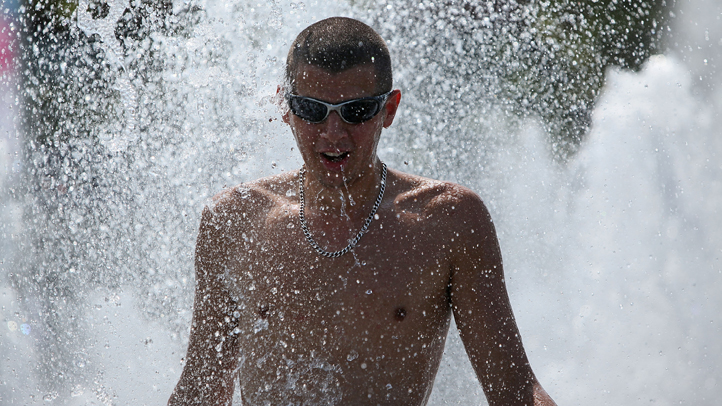 An excessive heat warning issued Wednesday morning is in effect until 7 a.m. Friday.

At 3 p.m. Wednesday, the temperature at O'Hare International Airport registered at 99 degrees. Add in the humidity, and it felt like 108 degrees.

Yikes.

The city's Office of Emergency Management and Communications said it received 96 calls on Wednesday for well-being checks, nearly double the number it received a day earlier.

There were 22 calls from people seeking shelter from the heat and 312 calls about open fire hydrants.

Chicago Public Schools officials said summer classes will continue. Extra fans have been brought in and classes will rotate in schools with partial air conditioning.

Parents are asked to dress their children in cool, loose-fitting clothing and send them with reusable water bottles.

All outdoor sports camps have been cancelled.

At Wrigley Field, where the Cubs were taking on the Phillies, fans were treated to free water. Still, some were seen leaving early because of the heat.

"It's a little disappointing, but obviously you've got to think of health concerns with two small children," said Anthony Corvello, who walked out of the game just after the opening pitch because his 4- and 2-year-old sons were overheated.

One woman who had been handing out fliers outside the field fainted before game time. She was recovering and cooling off inside an air-conditioned store.

At Brookfield Zoo, animals tried to beat the heat with large blocks of ice. Sloth bears received ice filled with juice, berries, peanuts and raisins, while lions received ice filled with meat. Grizzly and polar bears were treated to blocks of ice filled with an assortment of berries.

Humans at the zoo could take advantage of a water splash pad and decorative misters located throughout the park.

That did little good for a few hundred ComEd customers in the River North and Streeterville neighborhoods who were without power for a couple of hours. All affected customers were back online by 3 p.m., the utility said. It's unknown whether the outage was heat-related.

Wednesday's heat warnings were issued at about 7 a.m., after a round of storms passed over Chicagoland.

Highs for the next couple of days will be in the upper 90s, meaning some spots will feel like 105 to 115.

That means dangerous conditions throughout the area, and the city of Chicago reminds residents to avoid going outside mid-day, to drink plenty of water, avoid physical activity and not to leave pets unattended in cars.
Since Tuesday, more than 300 people utilized Chicago's six city cooling centers. Park district pools and city beaches will be open all day. On Tuesday, all but one beach was closed for intense fog causing limited-to-no visibility.

When will the heat end? Not this weekend.

Monday may bring relief, with temperatures predicted to be in the low 80s.

Keep Cool Illinois: Find Your Nearest Cooling Center