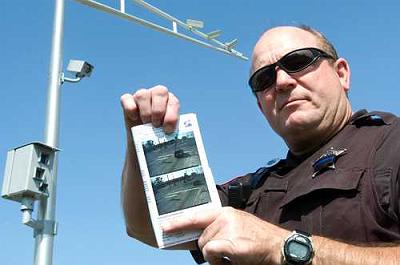 A Homewood police officer says his auto shop took his minivan for a joy ride, garnering him a $100 ticket in the process.
His evidence: a traffic cam ticket of his 2005 Dodge Caravan blowing a red light, taken at 8:26 a.m.
His alibi: "I was on call for a stranded motorist at 183rd and Harwood (Avenue) at that time," said Officer Mark Phalen to the Southtown Star. "I got the call at 8:25 and it was cleared at 8:32 (a.m.). That's documented. I couldn't have been in two places at one time."
The 50-year-old cop says the yahoos at Discount Tires must've gone for a spin when he dropped off the minivan for a simple tire rotation.
Cautious lest he erroneously accuse the shop of wrongdoing, Phalen contacted the Discount Tire at 810 Maple Road and asked if they run test runs after rotating tires.
Nope, not the normal procedure.
"Here I'm thinking my car's being worked on and instead some mechanic was using it probably to go get coffee or smokes at the (nearby) Speedway. Why they used my car to do it, I'd love to know."
Phalen says he dropped the car off at 8 a.m., picked it up at 10:30 a.m., then went back to work.
But shop manager Will Rice told police Phalen came back to the shop, picked up the vehicle, then brought it back, then picked it up again at 10:30 a.m.

So it was Phalen who was driving the van when it ran the red light, Rice told police.

Phalen says he still doesn't have any answers, but Discount Tire has offered to pay the $100 ticket.