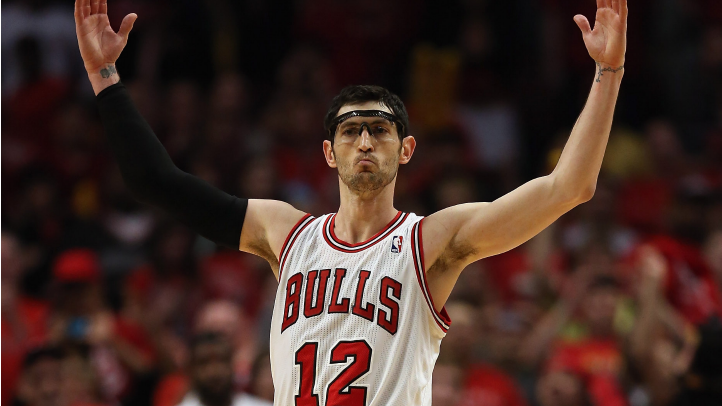 Kirk Hinrich has returned to the Chicago Bulls' starting lineup against the Nets after missing the last five games with an ailing back.
Chicago also got Jimmy Butler back Wednesday after he sat out the win over Cleveland on Friday with a right ankle injury. Butler joined Hinrich in the starting lineup.
The Bulls were still missing Luol Deng, who has an injured left Achilles tendon. Deng, averaging 19.6 points, has missed the last three games.
Brooklyn was still without Andrei Kirilenko, who has been sidelined this season with a back injury. According to Nets coach Jason Kidd, the forward is making progress. Brooklyn will be without Brook Lopez for the rest of the season after he broke his right foot in Friday's loss to Philadelphia.
If the NBA had a Christmas wish, it might be for a different holiday schedule.
Back luck and bad play have wrecked a number of teams the league picked to showcase. Derrick Rose, Kobe Bryant and Brook Lopez are all sitting out, as are Indiana and Portland, who share the NBA's best record.
But hey, there's two 9-18 teams and one that's 10-16.
The Miami Heat and Los Angeles Lakers got the late afternoon marquee time slot, but it's certainly no marquee attraction now that it won't feature a LeBron James-Bryant duel.
Before that, Chicago, Brooklyn and New York all get TV time, all chosen for the honor long before anyone could have known they would sometimes look unwatchable.
"Those things are done way ahead of time. You just hope for the best matchups. Unfortunately, the Derrick Rose injury puts Chicago in a tough spot. Brooklyn and New York have not played particularly well," said Jeff Van Gundy, who will work the Heat-Lakers game on ABC.
"But I still think people will watch. It's Christmas Day, and people still care deeply about the Bulls and about the Knicks, even though they haven't played particularly well of late."
Copyright AP - Associated Press