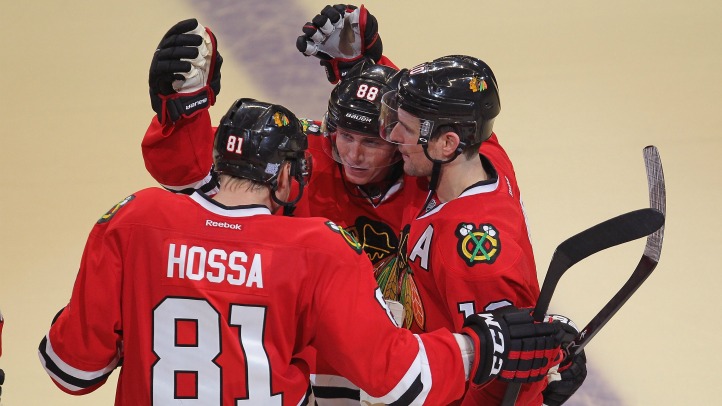 Yeah, it's only eight games. There's so much further to go, but seeing as how it never happened last season, the fact that the Hawks put their head to the pillow Tuesday night as first in the division, well, we'll just let that put a smile on our face. If only for a second or two.

Anyway, weird game against Anaheim. Some good, some bad. But the problems of Saturday night were seemingly fixed.
Both Anaheim goals were results of things that can't really be corrected. The first was Sean O'Donnell getting outraced on a power play, which will happen because O'Donnell is basically the hockey version of a Ugo.
The second goal against the Hawks will cause some to harangue Patrick Kane for his suicide pass to Duncan Keith. However, at the time of making it, Teemu Selanne was just about to come off the bench, and there's no way that Kane could have seen that coming. Merde happens.
As for the rest of the game, the Hawks were solid enough, and when they weren't Corey Crawford was there to save the day. Oh, and the lottery of the shootout came up with their number this time. Doesn't really have anything to do with practicing it.
Other thoughts:
Kane's spin-o-rama pass to Hossa will steal all the headlines. At the time, I thought there was no way he had any idea that Hossa was there, because Kane has attempted this move followed by a shot right into the goaltender's chest no less than 87 times. But if you watch the replay, Kane does take a look and might, just might, know that Hossa is streaking toward the net. How he would know to put it behind Dan Carcillo who was breaking for the net is another matter.

The way Patrick Sharp scored the equalizer, drifting to open space, is what he should be doing on the power play, instead of just heading to the goal line from the point as soon as he can.

You may ask why Nick Leddy is killing penalties and Steve Montador isn't. You may ask that because I'm asking it as well.

I said Ryan Getzlaf was floating through this season, and he was the most dominant player on the ice. I also talk about Teemu Selanne not caring all the time, and he scores his customary goal against the Hawks. I could stop a 98-car funeral procession.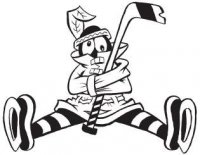 Sam Fels is the proprietor of The Committed Indian, an unofficial program for the Blackhawks. You may have seen him hocking the magazine outside the United Center at Gate 3. The program is also available for purchase online. Fels is a lifelong 'Hawks fan and he also writes for Second City Hockey .