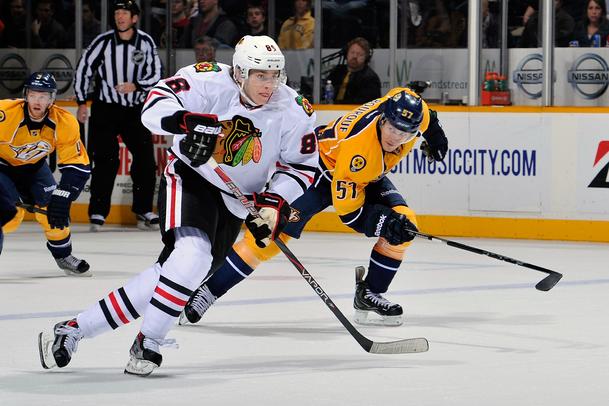 Even though the Chicago Blackhawks just concluded a seven-game winning streak on Saturday night, losing to the Phoenix Coyotes in a shootout, there still have been several areas of their overall game that have fans concerned.
One of those areas has been the team's goaltending decision. With Corey Crawford not looking like his 2011 self lately and with Ray Emery suffering from a lower body injury that has kept him out of a couple games in a row, fans are worried this setback could hamper the team's title chances.
Perhaps an even bigger issue for this team has been their power play. Last year, their power play unit was one of the worst in the NHL, and even though they started out this season significantly better, they have regressed back to where they were a year ago.
No time else this season has the man-advantage issue been more of a factor than in the team's previous nine games before Friday and Saturday's contests. In those games, the Hawks were 0-for-19 over that stretch, and had difficulty in doing anything, from penetrating the offensive zone to setting up their perimeter passing to getting traffic on net.
On Friday against the Predators, all of that changed. The Hawks suddenly looked more active with the puck and were able to get some great traffic in front of Pekka Rinne. Duncan Keith illustrated that aggressiveness well, slicing into the zone and firing off a great shot. Marian Hossa's overtime tally was a bit more on the "cycling" side of the ledger, with Patrick Kane and Keith both firing off crisp passes to one another as Hossa lined up for his shot.
While that game was played against one of the league's worst penalty killing units, Saturday's tilt with the Phoenix Coyotes proved a sterner test. The Coyotes, 13th in the league in penalty killing, did a good job of attempting to disrupt the Hawks, but Chicago was able to penetrate the zone with ease and get set up, thus hindering the Yotes. On Brent Seabrook's first goal, the Hawks did a tremendous job of cycling the puck around, and captain Jonathan Toews provided some solid traffic in front of Mike Smith as well. Finally, it was Seabrook's laser shot that sealed the deal on the tally.
On the second power play goal for the Hawks, it was again Seabrook scoring, but his effort was only half the story. What really enabled the Hawks to score on that play was the down-low effort by Kane below the goal line. His puck possession ability, a hallmark of his game this year, was on full display as nearly the entire Coyotes defense converged on him. Seeing this, Seabrook pinched in from the point and fired off a solid shot from between the circles.
It is these little things like zone entry, puck possession and getting traffic in front of the net that have enabled the Hawks to turn around their power play in the past few games and will be key ingredients for the team as they move forward toward the Stanley Cup playoffs. With guys like Kane, Hossa and Toews playing into their respective roles, there isn't a lot that can stop this team when they have the puck, and these power play tallies are great examples of that skill.