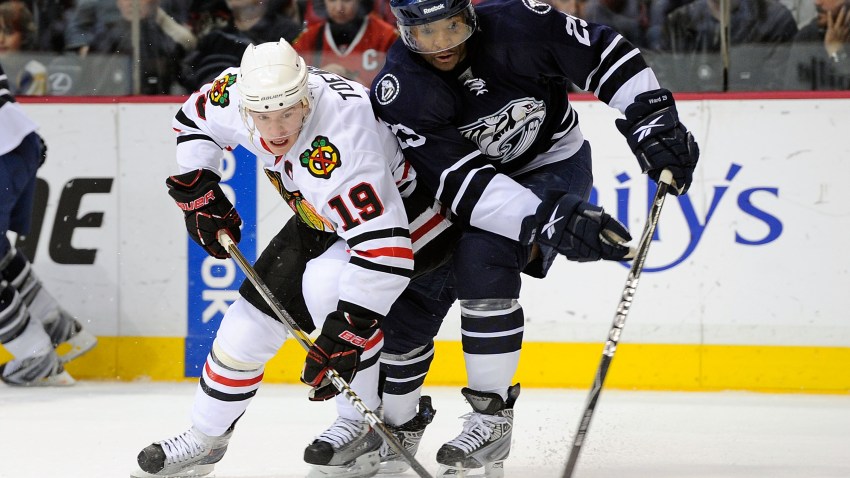 It's been a month since the Hawks won two games in a row, but now that that little nugget is in the bag, they're going for three W's for the first time in more than six weeks (takes time out to cry).

Sadly, the Hawks will attempt to accomplish this ever so modest mission in a building where they've put forth two of their most ham-fisted efforts this year.

The last time the team was down in Dixie, they upped the ante by blowing a two-goal, third-period lead, only needing about three minutes to get sideways like a teenager trying scotch for the first time.
So clearly things will have to be different if this indeed is the point in the season where the Hawks sit up, clean off the Wendy's wrappers from their chests, blearily look around and say, "God, I have to get out of here!"

They haven't played all that well in these previous two wins, but at least they held on to find themselves with two points when the shouting was over. And that's a whole lot better than digging furiously for a hole to dump those points in and come back for. If the Hawks can start to play well tonight, then they could roll up a streak.
Word out of the morning skate is that Corey Crawford will get the start. Though he's been shaky in his last couple outings, he's 3-1 in this four-game starting streak, so it's hard to complain.

A pop-gun Predator offense could help. Fernando Pisani also returned to the ice and could return to the lineup, though it would be anyone's guess for whom. The smart money would be on Viktor Stalberg, which seems a tad unfair as he's actually been playing well recently, just not with the results one would expect.

Nick Boynton was the only one to miss, apparently with an upper body injury, so apparently those thousands of #24 voodoo dolls sold around the Chicago area are finally kicking in.
The Preds come in not exactly stumbling, but not exactly firing either. They're 4-4-2 this month, having lost their last two and three of their last four. In their last game, without stalwart defender Ryan Suter, they got pantsed in the third period in Columbus, giving up all four goals in a 4-0 whitewash.
The Preds were buoyed by the addition of Mike Fisher, or as he's known in Nashville, "Carrie Underwood's husband" from Ottawa. Fisher isn't a star, but he fits in perfectly with what the Predators do. He's responsible in both ends, works hard and gives the team more offensive spark at center than they had. But this team found out today it's lost another center, Marcel Goc, for the year, and it wasn't deep there to begin with.
And this team really isn't deep anywhere, especially scoring. They've only managed more than three goals in a game once this month, and Patric Hornqvist leads them in goals with a mere 17.

After the top pairing on defense, which is the best in the league with Suter and Shea Weber, there's just a bunch of guys. The Preds get bailed out by their excellent goalie in Pekka Rinne, but the Hawks haven't had too much trouble in getting to him when they've needed to.
What gives the Hawks trouble is matching the Preds' effort level and being smart.
Nashville doesn't leave any room for anything cute, so being responsible in getting the puck out of your zone and into theirs is paramount. No experimental or lazy stuff will be accepted. Chip it out past their holding d-men at either line and use your superior speed in straight lines to go get it behind them. The Hawks have done it before, just not long enough. That should change tonight.