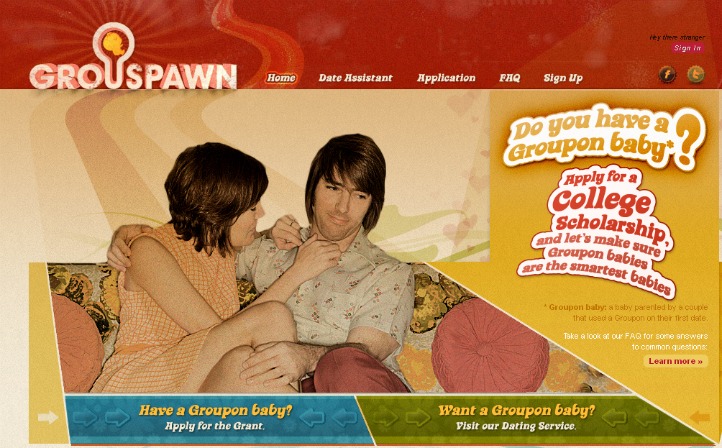 Note: Our timing was slightly off. Grouspawn launched in 2010. Andrew Mason's presentation on the topic, however, was highlighted by the tech blog Techcrunch, in July 2011. We regret the timing error.
We've gotten whiffs of Groupon's megalomania before, but the group-buying company's new initiative, Grouspawn, takes the power-grabbing to a whole new level.
Unveiled Wednesday by Andrew Mason himself, the service will reward two couples a year with a college fund as long as they had their first date using a Groupon and subsequently produced a child. Customers have to submit a photo of themselves on the date, holding their Groupon and the day's newspaper.
"The problem with [sex] has always been there's no incentive to find a partner and then have a child," smirked Mason at a press conference.
No, it isn't a joke. But it sounds like one, doesn't it?
Grouspawn also doubles as a dating service where profiles, naturally, focus on people's favorite Groupon-related activities: The types of deals they tend to buy, their ideal Groupon-facilitated date, and oh yeah, what they're looking for in a potential soul mate.
Mason also promised that more new features and other products are "coming pretty soon" from Groupon.
Shrewd and clever though it may be, if Grouspawn is the first announcement to catch people's attention and detract from the rabble-rousing about the company's bumpy IPO, then there must surely be some surprising things ahead for the company.