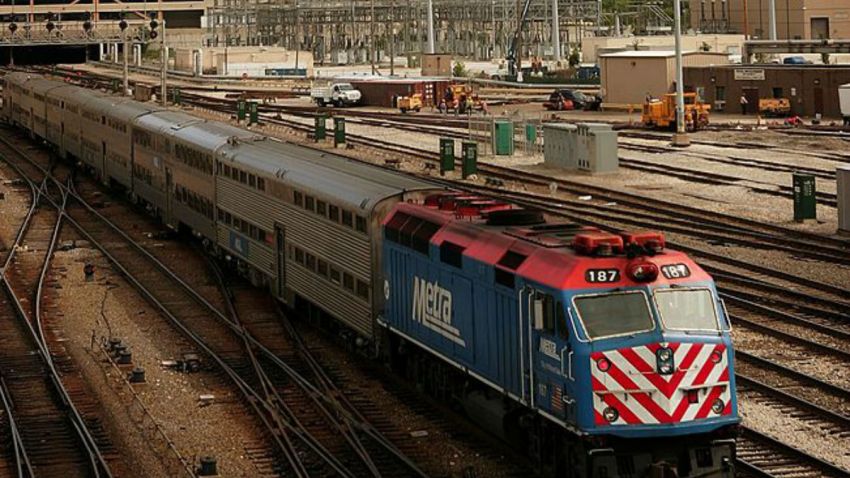 A statement from the National Weather Service confirms "a funnel" briefly touched down near Manhattan, Illinois Monday evening—prompting some Metra trains to stop in their tracks for safety reasons.
On Wednesday morning a spotter reported to the NWS having seen a funnel touch down in the area two nights before. The weather service had been monitoring the area closely at the time, but did not issue a tornado warning.
"A ground survey Wednesday afternoon revealed multiple patches of flattened corn in a field along Gougar road near Manhattan, Il," the statement read. "The stalks were all laying toward the northeast. They were also quite dry and could be snapped over with little pressure, but enough radar and eyewitness evidence exists to suggest there was briefly a broad and weak circulation on the ground."
Monday night, several Metra trains packed with commuters stopped on the BNSF line due to what it called a "Tornado Warning" at the time.
Metra received much criticism on social media for using the term "Tornado Warning" when the National Weather Service had not issued such a thing.
A spokesperson for the rail agency said by telephone Monday night she was attempting to track down why that terminology was being used by the company.
Metra later clarified where the warning came from on social media.
"Metra does not control train traffic on the BNSF and three UP lines. Those lines are owned, operated and dispatched by those freight railroads," the rail agency tweeted Tuesday. "BNSF and UP confirmed that they received a tornado warning from their weather service, AccuWeather."
"They followed their protocols in response," Metra continued. "Those protocols exist for the safety of our customers, and they err on the side of caution. While we regret trains were delayed, the two railroads acted in good faith."
The "funnel" that touched down near Manhattan Monday was ranked as an EF0, according to the NWS. That ranking is considered "weak" and the rotation ranges within 65 to 85 mph.
"The information in this statement is preliminary and subject to change pending final review of the event and publication in NWS storm data," the National Weather Service said in its statement.