A 27-year-old man has been charged in the Oct. 7 shooting death of a 5-year old Elgin boy, police said early Saturday.
Miguel Hernandez Jr., also of Elgin, was charged with one count of first degree murder after he allegedly fired the shot that killed Eric Galarza Jr. He was ordered held without bond during a Saturday court appearance.
"The Elgin community provided multiple leads that helped lead to this arrest," Elgin police Chief Jeff Swoboda said. "Within one week, Elgin's gang unit has been able to arrest and charge the man responsible for this tragic incident."
Swoboda said Hernandez is a known gang member.
"This investigation, led by our gang unit, involved every division within our department," Swoboda said. "I'm proud with how we all worked collaboratively to take this killer off the street."
Swoboda said the community also needs to be recognized.
"Our community is tired of gang members who are cowards hiding behind guns," Swoboda said. "This man killed a 5-year-old child and tonight [Friday] he is behind bars because our community recognized that this behavior is not acceptable in Elgin."
Galarza Jr. was in a car with his parents, aunt and siblings in the 900 block of Elma Avenue in Elgin when he was shot. He was taken to Sherman Hospital in Elgin, where he died a short time later.
Elgin police continue to investigate. Anyone with more information relating to this case is encouraged to contact the Elgin Police Department's anonymous tip line at 847-695-4195
or leave an anonymous tip on the police department's website
.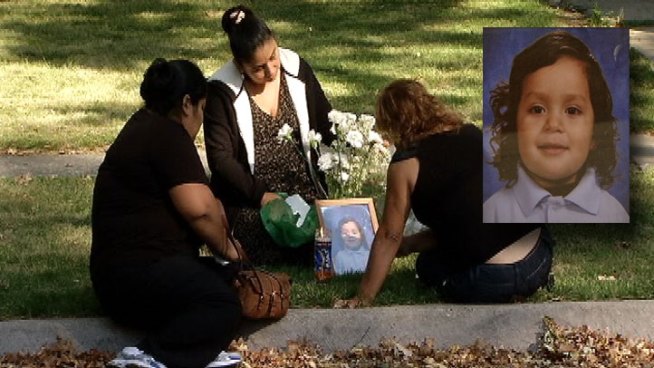 Family members erected a makeshift memorial outside the Elgin home where Eric was shot, including pictures, candles and balloons.
Published at 1:09 PM CDT on Oct 15, 2011 | Updated at 1:56 PM CDT on Oct 15, 2011