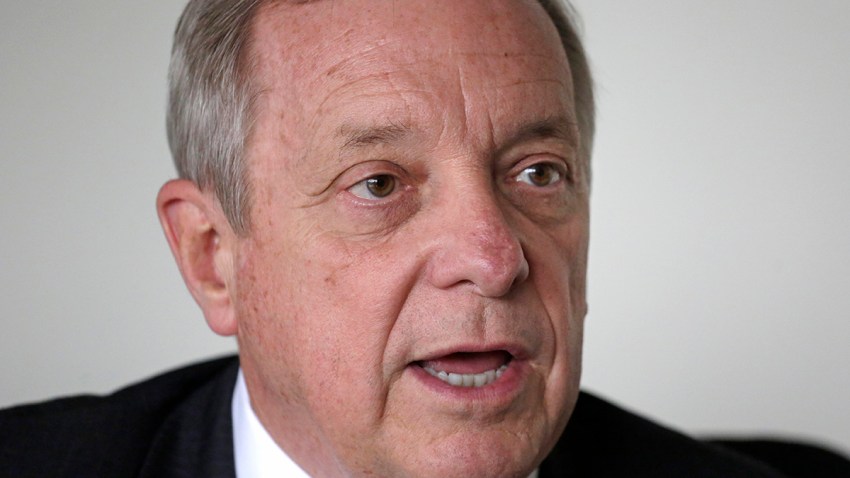 In the wake of Sunday's mass shooting in Orlando and the ongoing violence on Chicago's south and west sides, Sen. Dick Durbin urged fellow lawmakers to pass gun safety reform during a news conference at the Chicago Urban League Friday.
"What happened in Orlando is heartbreaking, as is what has been happening in Chicago on a daily basis," Durbin said in a statement. "Common sense dictates that Congress listen to the pleas across America to stop this gun violence. I was proud to join Senator Chris Murphy and 37 other Democratic Senators in holding the Senate floor until the Republican majority agreed to schedule votes on gun safety reform."
Durbin spoke on the Senate floor during a nearly 15-hour filibuster that ended early Thursday after Republican leaders reportedly agreed to vote on two proposed gun control measures, including a bill that fell short in 2015 that looks to close the "terror gap" by preventing suspected terrorists from buying guns.
The other bill deals with expanding background checks to sales at gun shows and online.
Durbin said the measures would also help to combat gun violence in Chicago. So far this year, over 1,700 people in Chicago have been shot and around 280 have been killed.
"The reforms that we are pushing to address the threat of terrorist shootings will also help us address the daily gun violence here in Chicago," Durbin said. "Weak gun laws at the federal level and in neighboring states make it too easy for guns to end up in dangerous hands here."
"On Monday, we will have a chance to vote to change those laws, and I hope we have the guts to stand up as a Congress and do what's right," he added.
The reignited push for gun control comes in the wake of Sunday's massacre at a popular gay nightclub in Orlando.
Omar Mateen opened fire early Sunday morning at Pulse Orlando, killing 49 people and leaving 53 more wounded. Mateen, who was ultimately shot and killed by police, pledged allegiance to ISIS during the attack. The shooting is being called the worst in the country's history.
Additionally, Sen. Mark Kirk introduced new legislation Thursday that would alert the Federal Bureau of Investigation if a terror suspect attempts to buy a gun.