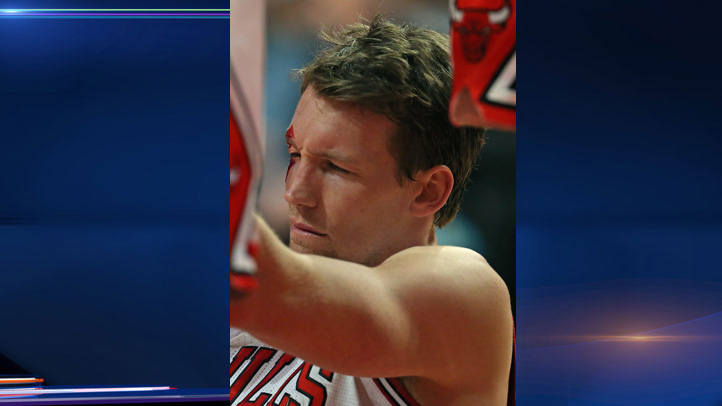 Mike Dunleavy scored all of his 21 points in the second half, Joakim Noah flirted with another triple-double and the Chicago Bulls posted a 111-87 wire-to-wire victory over the Houston Rockets on Thursday night.
Noah finished with 13 points, 10 rebounds and nine assists in 34 minutes. He was headed for his fourth triple-double of the season, but sat down with about three minutes left because of the lopsided score.
Kirk Hinrich scored 19 points for Chicago, going 5 for 6 on 3-pointers, Carlos Boozer added 18 points, D.J. Augustin 13 and Jimmy Butler 11.
The Bulls improved to 2-2 on their six-game home stand.
The Rockets have dropped two straight. Reserve guard Jeremy Lin led Houston with 21 points, while Dwight Howard had 12 points and 10 rebounds in 28 minutes. James Harden had eight points on 2-for-7 shooting in 27 minutes.
The Bulls were coming off a humiliating loss to San Antonio on Tuesday. Although they lost by just eight points (104-96), the game was essentially over after they fell behind by 32 points in the first half. Bulls coach Tom Thibodeau said his team simply wasn't ready to play following an emotional win against the Miami Heat two days earlier.
"If we don't play with great intensity, we're in trouble," Thibodeau said before the game. "Two or three minutes when you don't have that edge, that's 15 or 20 points."
The Bulls were ready to play from the start Thursday, jumping out to an 18-10 lead eight minutes into the game behind 10 points from Boozer.
They never trailed in the first half, taking a 50-42 halftime advantage.
Any thoughts of a Houston comeback were quickly dismissed at the start of the second half when the Bulls opened the third quarter with 16 straight points for a 66-42 edge. The final 12 points of the run came on four straight 3-pointers by Dunleavy and Hinrich. They each had two, alternating after Hinrich started the streak.
Later in the quarter, the Bulls stretched the lead to 77-48 on a 3-pointer by Augustin. They led 85-58 entering the fourth quarter.
Dunleavy, who was hit above the right eye while drawing a charge in the second quarter and ran into the locker room gushing blood, finished with 18 points on 7-for-11 shooting. He was 3-for-4 on 3-pointers and the Bulls were 6 for 8 from behind the line in the quarter.
The Bulls were able to open up the big lead because of the hot shooting, but Noah's defense on Howard was a key to the victory. Noah's ability to contain the Rockets' big man straight up hampered the Rockets' offense.
It was a far cry from early in his career when Noah usually was overpowered by Howard.
"The biggest improvement for Joakim has been his overall strength," Thibodeau said before the game. "He's obviously gotten great experience, he continues to grow and we play him on just about everybody, from point guards to centers.
"I think he has a really good understanding of what a player's strengths are and trying to make them get away from their strengths. He's much stronger than he was, even two years ago."