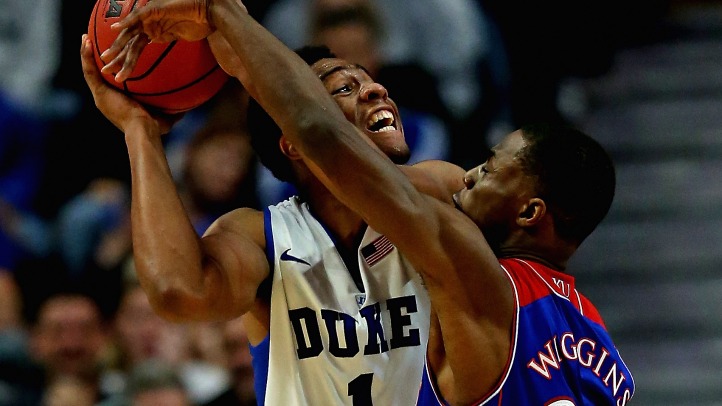 In terms of the way things ended, it wasn't quite the homecoming that Jabari Parker expected. The Simeon Career Academy alum played the second game of his college basketball career in front of his hometown fans, family and friends at the United Center as his No. 4 ranked Duke Blue Devils took on the No. 5 ranked Kansas Jayhawks and another freshman sensation, Andrew Wiggins, whose father Mitchell, played one season for the Chicago Bulls in 1983-84.
With every NBA general manager and seemingly every pro scout in attendance, the game, along with the performances of the two marquee players, lived up to all the hype in the nightcap of the State Farm Champions Challenge.
Parker was sensational in the first half, scoring 19 points on 6-10 shooting from the field and 4-5 from the three-point line, showing the skills that make him considered one of the most complete players in this über-talented freshman class. Wiggins picked up two early fouls and was forced to sit much of the first half.
But the second half was a different story as Parker scored eight points and Wiggins put his freakish athleticism on display, helping his Jayhawks squad walk away with the 94-83 victory.
Afterwards, however, Parker was in a less than celebratory mood, despite the pride his performance brought to Chicago basketball fans.
"It was good," said Parker of playing at the UC and finishing the game with 27 points, nine rebounds, two steals and a block. "Of course, it didn't mean nothing because we didn't win. That's the final result, that's all that we wanted to play for. It's all good; newspapers said I'm back, but it don't matter if you don't get the victory and that's all we want at the end of the day."
"It was fun," remarked Wiggins who scored 22 points and grabbed eight rebounds, icing the game with a step back jumper late in regulation. "It was nerve-wracking at first. Ask [Perry Ellis Jr.] I was sweating a lot. Once the ball tipped off, I was good, I played with a lot of confidence. Times like these are fun."
And while Wiggins seems to have enjoyed his experience, Parker couldn't get past the disappointment of losing, something he hasn't done a whole lot of his basketball career.
"C-minus. I didn't play that well," was Parker's response when asked to grade his performance. "Offense is always going to be there. You're going to get shots, no matter what. You're going to get looks. The most important thing is defense. Defense wins championships … I want to win. Forget everything else. That's all I'm looking for is winning. That's all that matters to me."