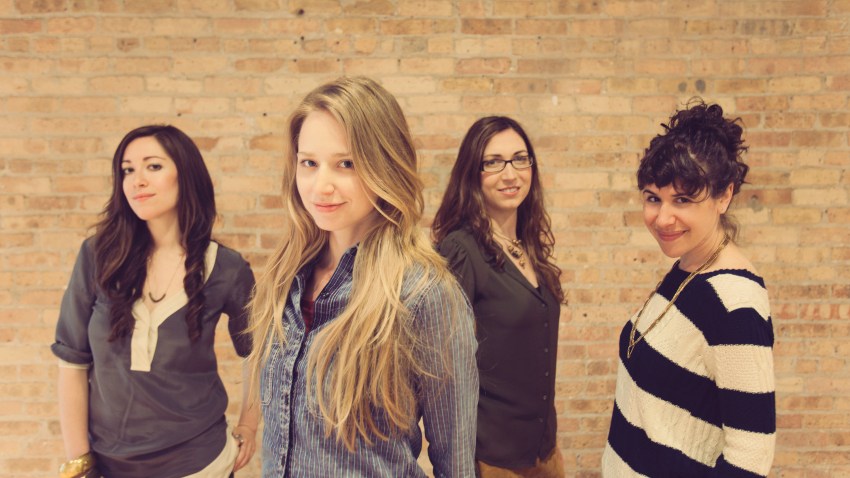 Each month the River East Arts Center plays host to a highly curated food and fashion marketplace called Dose Market.
The "Dosettes," the team that organizes the event, is a highly impressive collection of talent, comprised of April Francis, founder of The Haute Closet; Emily Fiffer, DailyCandy Chicago editor; Heather Sperling, Tasting Table Chicago editor; and Jessica Herman, Associate Style & Shopping Editor of Time Out Chicago. I sat down with Francis and Fiffer for a conversation about creating, curating and partnering with friends -- while also staying friends.
What inspired you to create Dose Market?
Emily Fiffer: I know that when April was initially telling me her idea, it was out of a desire to give Chicago the fashion presence it really does deserve. She wanted to provide a space for designers and boutique owners to sell, even if they couldn't afford the rent in Wicker Park. When she told me she'd found a space, I suggested there be a food component, and that Heather and I would handle it if April took care of fashion. Heather lived in NYC for a number of years and had dreamed of starting a food market in Chicago, so it was pretty incredible timing.
Is this your first time creating a business partnership? What lessons have you learned from the process and what would you do differently?
April Francis: We're all curators. We're all in this together. When you're an entrepreneur running a new business, things come at you and you have to say yes and not be too hung up on the details.
Emily Fiffer: But we say no when we have to say no.
April Francis: For example, we got a logo design from Emily's extremely talented boyfriend who does graphic design and it was like, "Yes, let's move on it." You need to get the idea crystallized in your mind and run with it. Don't be such a control freak.
Emily Fiffer: I absolutely think we have a situation with four Type-A female personalities and navigating it has been completely fascinating for me. This is my first partnership experience. You definitely learn a lot about navigating everything from moods to decision making. It's a really delicate balancing act.
April Francis: You have to pull out the strengths of each individual and let them run with it. When you have a partnership you have to trust, otherwise it's not a partnership.
What's critical for a successful business partnership? And how do you ensure your working relationship has these components?
April Francis: You have to choose people wisely.
Emily Fiffer: Although I threw myself at her mercilessly and thankfully she said yes.
April Francis: [Laughs.] I trust Emily with my life.
Emily Fiffer: We talked about bringing someone else in for fashion and we think Jess brings a great perspective. We want amazing taste, but not the same taste. Heather and I are constantly talking about different vendors -- she might love one person, I might have had a different experience. It opens the dialogue and challenges you to pick the best of the best.
When partnering with friends, what are the advantages and disadvantages? How do you overcome the challenges and ensure you're protecting the friendship?
April Francis: You have to realize business is business, friendship is friendship. Friendship supersedes the business to me. Business is not personal.
Emily Fiffer: I agree. April and I were friends first and I was friends with Jess and Heather. It's been incredibly amazing to see the business side of April's personality. Overall, we're good at keeping it separate.
April Francis: We have to. Happily my business and personal life intersect, but my friendships always come first. Our business is about promoting this incredible talent -- we believe in these people. The cool thing about Dose is that the vendors are good people. And with the Internet and social media, everyone is crossing those lines of business and personal. Your feelings can't get hurt over a business decision.
Emily Fiffer: I think keeping friendship and business separate is paramount, but the thread that runs through both is respect and we have tremendous respect for each other personally and professionally.
What advice would you offer to aspiring entrepreneurs who want to forge a business partnership?
April Francis: Choose wisely: you're getting married. You need to have a full suite of talents. If you have that yourself, you need to be able to delegate to others.
Emily Fiffer: You have to pick people who are capable and then let go, even though it's hard. We're all independent women who are used to making our own decisions. Also, you need a lawyer, someone with event planning experience, someone who knows how to ask those questions. It's all about relationships. There are a million components to starting a new business. You need to be incredibly organized and responsible.
April Francis: Our main goal is to make sure all the people showing at Dose do extremely well. Bringing together organization, marketing, product, people -- we need to map it out and act wisely. Be creative, organized and motivated.
Emily Fiffer: You have to want it.
For a partnership with four members, how do handle power sharing? Is there a leader?
Emily Fiffer: I think April from the very beginning has taken on a lot of the responsibilities --especially with logistics, but we make decisions as a group and are always checking in with each other.
April Francis: I head up a lot of the nuts and bolts and try to make it as easy as possible for the four of us to do our jobs as curators and enjoy the process in doing so.
Emily Fiffer: There's been a natural progression of responsibility based on the relationships we have. Essentially, there are four torches and we all pass them around.
What is your long-term goal for the partnership?
Emily Fiffer: World domination.
April Francis: Dose Market is a monthly event and we plan to continue doing it indefinitely.
Emily Fiffer: After the first market, people starting asking if we wanted to bring it to other cities.
April Francis: Dose was created for Chicago. I did this not thinking about other cities -- it was specifically for this city. I also think it's a great use of the REAC (River East Arts Center). There are so many people who live around there that are interested in this kind of concept.
Emily Fiffer: But people are also coming from other neighborhoods, which was our goal. We don't want to be prohibitive at all.
April Francis: It's an infectious experience. I've heard people say they're creating things for Dose. They're doing it at night because they want to be a part of it. The care that goes into each booth is really inspiring.
Emily Fiffer: The first day was magic. Seeing all the vendors set up and how beautiful their displays were -- it was an amazing experience.
The next Dose Market will be held August 14, 10 a.m. 'til 4 p.m., 435 E. Illinois. For more information, visit dosemarket.com and follow @dosemarket.
Rachel Gillman has an insatiable appetite and an obsession with entertainment. She can be followed on Twitter @RachelGillman.