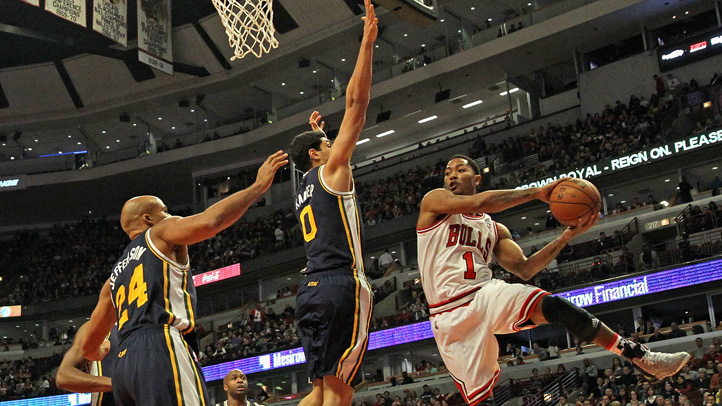 Luol Deng scored 19 points, Carlos Boozer added 18 and the Chicago Bulls snapped a two-game skid with a 97-73 win over the Utah Jazz on Friday night.
Deng added 11 rebounds and Joakim Noah had 14 points and Derrick Rose 12 for the Bulls (2-3).
Gordon Hayward scored 15 points for the Jazz (0-6), who are off to their worst start since they were in New Orleans in 1974-75, when they lost their first 11 games.
The Bulls dominated in the paint, scoring 56 points to 22 for Utah. Overall, Chicago outshot Utah 52.8 percent to 29.8 percent in winning its sixth straight against the Jazz.
Chicago built its biggest lead of the first half at 38-22 with 8:10 left in the second quarter and never looked back. The Bulls took their biggest lead at 89-60 with 8:39 left in the game.
With the game in hand, Bulls coach Tom Thibodeau gave his reserves plenty of playing time, and four of the Bulls starters (Rose, Boozer, Noah and Jimmy Butler) played 28 or less minutes.
Derrick Favors and Alec Burks had 10 points apiece for the Jazz, and Rudy Gobert grabbed 12 rebounds.
Chicago jumped out to a quick 7-2 lead, backed by five points from Rose, but the Jazz came back to close to 9-7, the closest they would get in the game.
Chicago then went on a 21-11 streak to close the first quarter ahead 30-18.
The Bulls outshot the Jazz 72.2 percent (13 of 18) to 33.3 percent (7 of 21) in the opening quarter.
Utah never got closer than eight points the rest of the way, shooting a 27.7 percent (13 of 47) in the first half. Chicago, which made 60.6 percent (20 of 33) of its shots in the first half, led 51-40 at intermission.
Things didn't get much better for the Jazz in the second half. Before the game, coach Tyrone Corbin said fatigue had been an issue with his young team thus far, and that showed once again in the final two quarters.
Utah came into the game leading the NBA in offensive rebounds (15.4 average per game), but was 29th (next to last) in scoring at 90.0. The Bulls came in 27th (90.3 ppg).