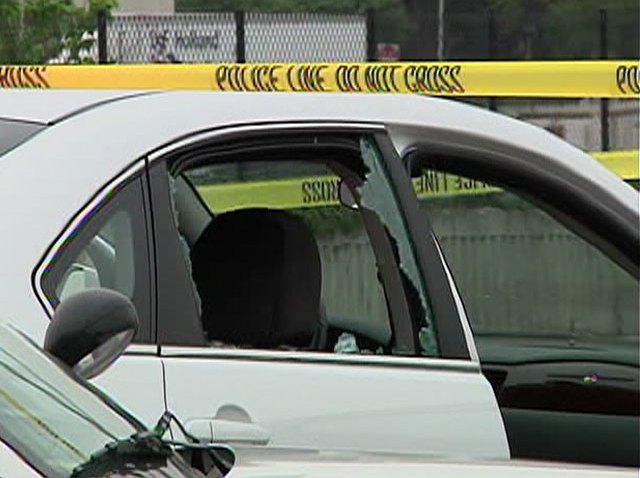 Police are searching for a gray minivan with tinted windows and temporary license plates in connection with a Friday afternoon shooting on the Dan Ryan Expressway.

A man was hit by bullets fired from the van while driving northbound on the expressway near 91st Street on the South Side Friday afternoon. His female passenger was cut by shattered window glass.

The driver was able to pull off the Chevy Impala off the expressway and called 911 from a gas station on 87th Street at 12:19 p.m. Friday, police News Affairs Officer John Mirabelli said.

The 18-year-old female passenger was taken to in fair-to-serious condition to Advocate Trinity Hospital. The 35-year-old driver was transported to John H. Stroger Jr. Hospital of Cook County. He was in serious, but stable, condition Friday night.

"It's getting crazy. It's like little Iraq out here," commented witness Cameron Williams, who heard about the incident after returning to the area from lunch.

There's no word on what led up to the shooting and no one is in custody.

Friday's shooting is the third incident in the last week that has tied up area roadways. On Tuesday morning, a 34-year-old father and former U.S. Marine was shot and killed on the Stevenson after a fight at a River North nightclub spilled onto the expressway.

Later that night, a deadly wreck tied up the Eisenhower Expressway after two robbery victims hopped into their car to pursue alleged thieves. One of the robbery suspects was killed when his car overturned near South California Avenue.

"I can't explain what's going on," said Illinois State Police Lt. Luis Gutierrez. "Obviously there has been a large increase in crime going on within our area, so we're doing our best along with other law enforcement to do our best to combat that."
Copyright CHIST - SunTimes