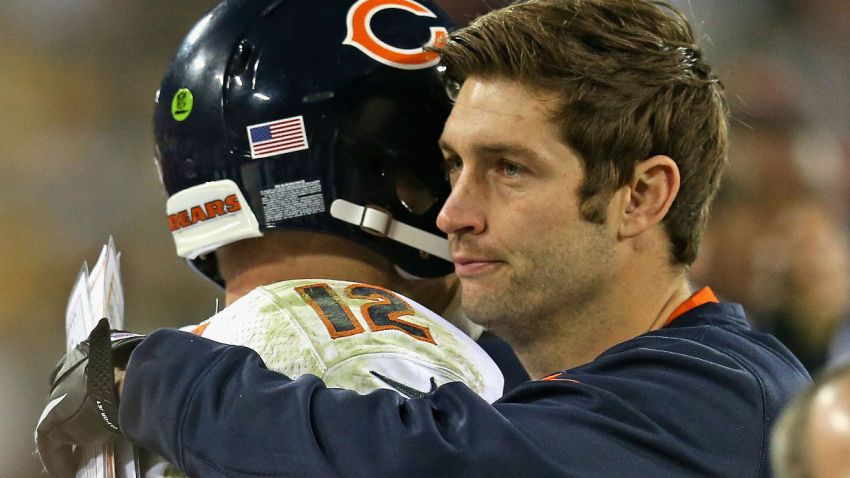 During Sunday's game between the Chicago Bears and Minnesota Vikings, broadcaster Thom Brennaman weighed in on a subject that just about every sportswriter in the Windy City has definitively crushed as a non-issue: Who should be the Bears' starting quarterback when Jay Cutler is healthy again?
Most rational fans side with Cutler, citing his "arm strength" and the words of head coach Marc Trestman, who has steadfastly said that a healthy Cutler is without a doubt the team's starter. Ignoring all of that, Brennaman went on a lengthy stream-of-consciousness riff about how fans in Chicago are starting to side with McCown. Here are a couple of gems from his thought process:
"If you're the head coach, IF McCown wins the game today, the Bears would be 3-1 in his four starts….would you pull the hook on McCown and bring back your starter Jay Cutler when he's healthy to play? I guarantee there's fights starting in Chicago one way or another."
Thom Brennaman* on Josh McCown: "I know Chicago. I lived in Chicago. And I know what they're saying in Chicago." — Major Onions (@Major_Onions) December 1, 2013
It would be easy to dismiss Brennaman's comments as somebody just trying to make waves during a broadcast, but according to a poll of Chicago Tribune readers, Thom's assertions may not be that far off. As of 12:30pm, a Chicago Tribune poll with over 1,400 responses had Bears fans saying Cutler should remain the starter when healthy, but only by a 53-47 percent margin, and 665 people in the poll voted that McCown, not Cutler, should be the starter the rest of the way.
"Results not scientific" caveats aside, this kind of poll is a bit of a head scratcher. Most reasonable Bears fans know that Cutler is a much better quarterback than McCown is, with a much stronger arm and an ability to make throws past coverages that McCown simply cannot make. Yes, McCown has been able to guide this team through some really tough games in recent weeks, and he has proven that timing is a great substitute for brute strength when it comes to getting the ball where it needs to go, but for 47 percent of fans voting in this poll to say that McCown should remain the starter even if Cutler is healthy is simply ludicrous.
The Bears have a better chance to win when Cutler is on the field, and everyone on the coaching staff and in the executive offices at Halas Hall knows this. It's fortunate for the Bears that it's people like Trestman and Aaron Kromer making these calls and not 47 percent of fans who think that starting a 34-year old making a splash for the first time in the NFL is a good idea.