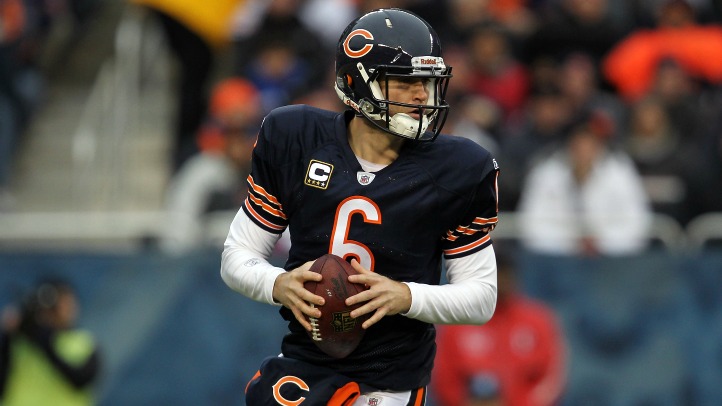 Update: Cutler had surgery on his injured right thumb in Vail, Colo. on Wednesday, a procedure the team said was "successful."


Much remains unknown about Bears quarterback Jay Cutler's thumb injury, from the fracture itself to his return with the team.

At least the surgery appears to be on. The prodcedure is scheduled for Wednesday in Vail, Colo., a league source told the Sun-Times.

Cutler kept coy about details in a Tweet to fans but stayed optimistic.
"Thanks for all the thoughts and prayers," he tweeted Tuesday morning. "The support has been great. Going to get my thumb fixed and be back as soon as I possibly can."
On Monday, head coach Lovie Smith told reporters Cutler's thumb would keep him off the field for "an extended period" of time but not through the regular season. Local surgeons have speculated the fracture could set Cutler back up to eight weeks.

In the meantime, Caleb Hanie will step into the starting role.

"We're going to run our offense with Caleb at the helm," Smith said, "and we're going to win football games that way."

Cutler's injury appears to have happened in the fourth quarter during Sunday's game against the Chargers when he attempted to prevent Antoine Cason from returning an interception. But Cutler was seen looking at the thumb throughout the third and fourth quarters.

Still he played the rest of the game, beating the Chargers for Chicago's fifth straight win. He made no mention of the injury in a post-game press conference, though. Around 8:30 p.m. Sunday, news started to spread.
Brian Urlacher said he found out about the "devastating" injury after the game.

"It was horrible," Urlacher said Monday. "I felt worse for him than for us. Stinks for us because he's having such a great year, and he's our leader. He's a guy we turn to for pretty much everything. It's bad for us as a team but worse for him as an individual."

"It's really up to the whole team trying to rally around each other and keep each other positive," said Nick Roach.