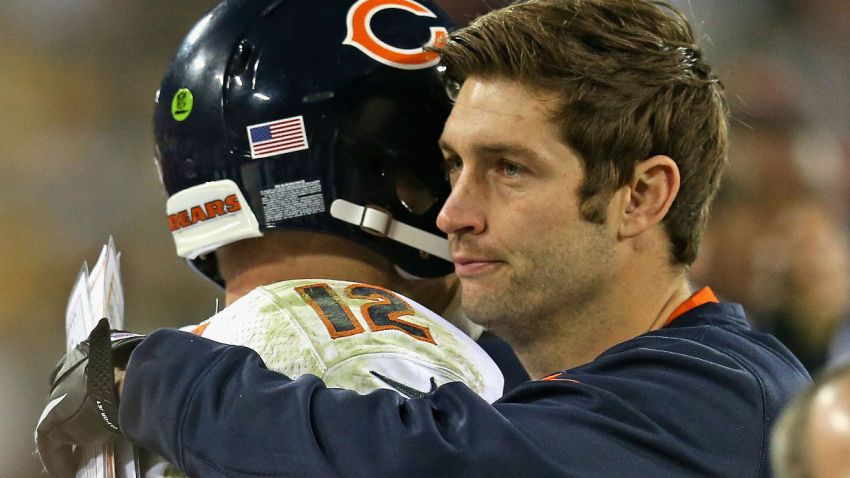 Chicago Bears quarterback Jay Cutler may have expressed some skepticism about reports that he would play against the Detroit Lions on Sunday, but it looks like he's back in the game.

Cutler practiced Thursday morning at Halas Hall as he attempted to find out if his injured groin could handle the cuts and drop backs necessary for him to get under center for the game.
The Chicago Tribune posted this video to YouTube of Cutler practicing his drop back passes:


That practice session apparently was enough to convince Cutler and head coach Marc Trestman that the quarterback will be able to return to the field on Sunday. Our Peggy Kusinski reported the news at a press conference Thursday afternoon:
#Bears HC Trestman CUTLER IS CLEARED TO PLAY Sunday vs #lions will start pic.twitter.com/DRsKv4vHfD — Peggy Kusinski (@peggykusinski) November 7, 2013
Cutler does appear to move a bit gingerly in the video, but he definitely looks like he's well ahead of schedule in his recovery from an injury that team doctors thought it would take him a month to heal from. Cutler expressed concern earlier in the week about whether or not he would be able to make cuts on the field or if his injury would prevent him from dropping back in the pocket, but those concerns were apparently alleviated by what he experienced on Thursday at practice.
Offensive Coordinator Aaron Kromer was adamant at the press conference that there would be no limitations placed on Cutler, saying that "if he's cleared to go we're going to do everything. We're going to call the offense."
The news also vindicates WR Brandon Marshall, who has been predicting an early return by Cutler since news first broke of the injury. Whether or not Marshall is able to parlay this success into a future career as an injury psychic remains to be seen, but Kromer was all smiles when asked about Marshall's prognosticating abilities:
#Bears OC Kromer on "Dr @BMarshall" predicting Cutler return "we like to watch Brandon play...listen? no!" pic.twitter.com/PkzwGddLbe — Peggy Kusinski (@peggykusinski) November 7, 2013
With Cutler back in the lineup, Josh McCown will return to a back-up role on Sunday.