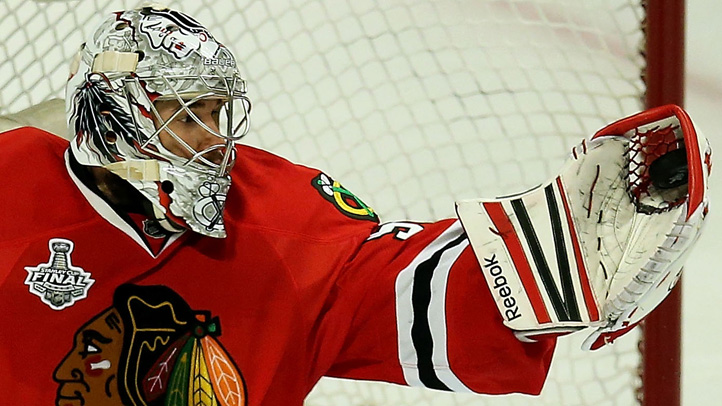 Over the course of the past few days, Chicago Blackhawks observers and fans have been talking at length about how Corey Crawford was beaten to a pulp in Wednesday's Game 4 because of the Boston Bruins' exploitation of his weak glove side.
In order to more fully examine that, Jill Keogh (who you can follow for updates to her work at @JillKeogh on Twitter) has been cataloguing all of the goals that Crawford has given up all season, and she has accumulated them all into a handy heat map, which can be found at this link.
The question, then, in looking at the charts showing where Crawford has been vulnerable this year, is this: does the media narrative fit what has actually been going on?
Before we go any further, here is a quick explanation for fans new to the game or unfamiliar with the terminology used:
1-hole: The area to the outside of a goalie's leg pad on his non-glove side (in Crawford's situation, his right pad).
2-hole: The area to the outside of a goalie's leg pad on his glove side (for Crawford, his left pad).
3-hole: The area above a goaltender's glove (Crawford's left hand).
4-hole: The area above a goaltender's blocker (Crawford's right hand).
5-hole: The area between a goaltender's legs.
With that glossary in place, here is the breakdown of what Crawford has been doing in the playoffs:
-In the first round against the Minnesota Wild, Crawford gave up seven goals. Six of the seven were high shots, with four beating him high on the glove side. The other goal was a 1-hole shot.
-In the second round against the Detroit Red Wings, Crawford gave up 14 goals in seven games. Nine of the goals came on low shots, with five of them going 1-hole and three going 2-hole.
-In the Conference Finals against the Los Angeles Kings, Crawford gave up 10 goals. Six of those were high shots, with three each going to his glove and blocker sides.
-So far in the Stanley Cup Final against the Bruins, Crawford has coughed up 12 goals. 10 of those have gone high glove side, and the other two were 1-hole and 4-hole goals.
There are several conclusions that one can draw from that information. As Keogh's chart indicates, Crawford has given up 53% of his goals in the postseason to his glove side, with all but three of those 23 tallies going to his high glove side. This would indicate that the Bruins were right to adjust their tactics in Game 4 to attacking that side, but there is a caveat to that strategic adjustment.
In the series against the Red Wings, Crawford clearly emphasized his glove side more, to the detriment of his stick side strength. Half of his goals went to his blocker side, with five shots beating him past his right pad. He also showed a good deal of strength on the glove side in the Kings series, giving up only three of his 10 goals allowed on that side. Unfortunately for him, five of the goals he consequently gave up because of that adjustment came to his stick side.
Overall, Keogh's heat chart shows that Crawford is capable of making adjustments to his game, but it also reminds fans that any adjustments made to compensate for a weakness tend to expose other weaknesses as well. That is the case in any sport, whether it's a basketball player driving to the basket more to compensate for jump shot issues or a baseball player changing his stance slightly at the plate to cover the outside corner.
Will Crawford cheat out of the net more to cut off shooting angles and not allow the Bruins to pick their spots? Only time will tell whether the media scrutiny of his play will lead to that kind of a reaction, but one thing is for certain: his ability to adjust will determine whether or not he can lead the Hawks to a Stanley Cup victory.