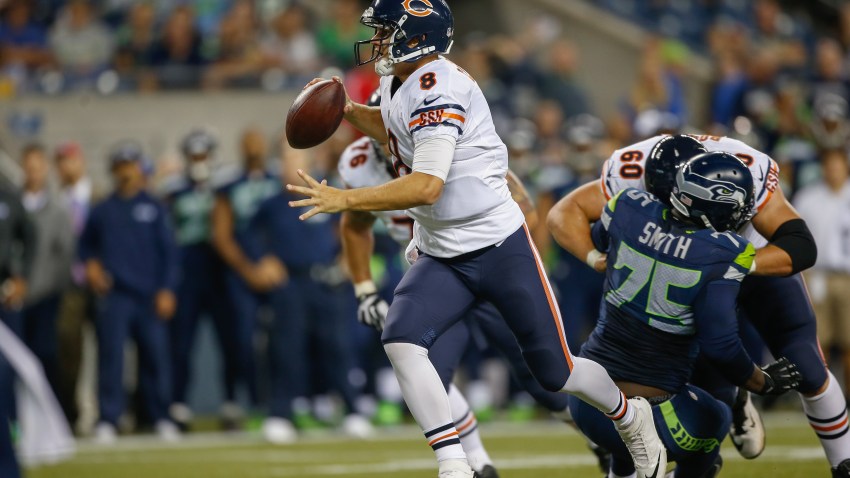 The Chicago Bears began training camp in Bourbonnais with a back-up quarterback battle on their hands, but on Sunday, things came to an abrupt end as the team opted to cut Jordan Palmer from the active roster, meaning Notre Dame alum Jimmy Clausen gets the job.
Kick returner Darius Reynaud and linebacker Jordan Senn were also released, bringing the total number of players on the team's roster to 78. The Bears have until Tuesday to trim three more players from the roster before the NFL's deadline for teams to have 75 active players.
Palmer, who was given the first crack at the back-up job, was beaten by Clausen, who joined the Bears before mini-camp earlier this year.
Clausen has consistently looked like an NFL quarterback during the team's three preseason games, showing the arm strength, assertiveness, and effectiveness that Marc Trestman and Matt Cavanaugh are looking for in a quarterback. His numbers in the preseason were solid, going 24-for-37 for 280 yards and two touchdowns in three games.
He also played with the third-team twice in those contests, so while he was going against weaker defenses, he also didn't have the same weapons to work with that Palmer did in his contests.
Palmer, on the other hand, looked tentative and ill-at-ease in the pocket, and Friday's performance brought more of the same for him. He went 7-of-10 in that game against the Seahawks, but he also missed a couple of surefire completions and had two delay of game penalties in three plays. That is an unacceptable performance for a guy who is one Jay Cutler injury away from seeing the field, and Palmer definitely hurt his chances with the difficulty he had in running the offense.