What to Know
Early morning cloud cover likely to give way to light snow as the noon hour approaches.

Temperature highs Sunday will likely top around 30 degrees.

Patchy Sunday overnight freezing drizzle possible.
The Chicago area will see a bit of a warm-up in the coming days, but it will come at a cost as precipitation is on the way for each of the next three days.
Clouds will begin to move into the area on Sunday morning, and by mid-morning light snow is expected to fall throughout the area. Accumulations won't amount to much, as snowfall totals should remain around an inch or even maybe up to two inches, but mixed precipitation could make things a bit slick for area motorists and walkers.
That mix could start in the evening hours, with patches of freezing drizzle possible, according to a Hazardous Weather Outlook from the National Weather Service. Untreated roads and sidewalks could become very slippery during the evening hours, and motorists are encouraged to use caution when driving.
Temperature highs Sunday will likely top around 30 degrees and are expected to remain around that mark into the day on Monday. More snow is expected to develop Monday evening and into Tuesday morning--a precipitation that should transition over into rain as the mercury begins to rise.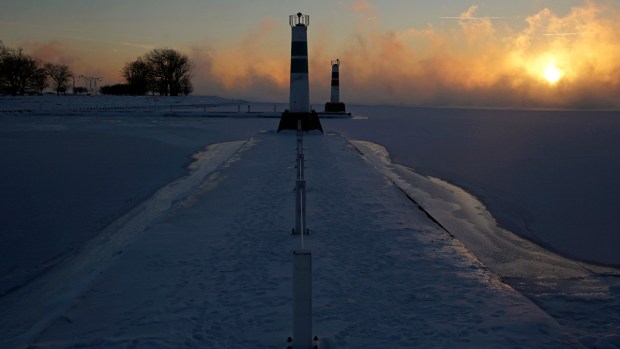 Stunning Photos Show Chicago Cold in the Most Beautiful Way
On Tuesday, temperatures in the 40s are expected, but as the day wears on slightly colder air will move into the area, turning the rain back into snow and making for potentially slick conditions.
By the time Wednesday rolls around, temperatures should settle around fairly seasonable levels, and the sun is expected to come back out as the high settles into the low to mid 30s.