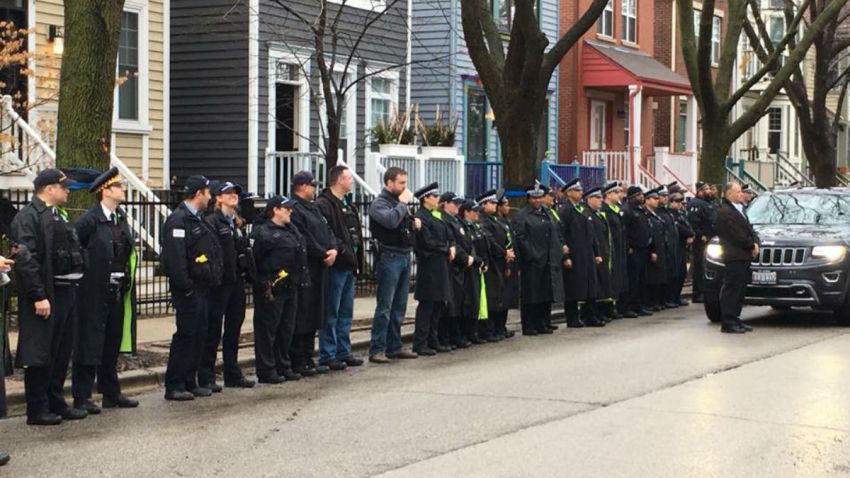 One week after his death, Chicago Police officers are following through on a promise they made to the daughter of fallen Cmdr. Paul Bauer.
Lining the street outside the young teen's school, dozens of officers could be seen in a photo standing in uniform - a heartbreaking yet powerful statement just three days after her father's funeral.
Chicago Police News Affairs said the lineup included officers from several police district across the city, though many came from the 18th and 1st Districts.
The slain commander's department had vowed to step up and support the wife and young daughter he left behind.
"They are the men and women who selflessly put their lives on the line each day to protect people they don't even know. They are my new family," Bauer's widow Erin Bauer wrote in a letter thanking the city just after the funeral.

Cmdr. Bauer, of the 18th District, was shot and killed Tuesday afternoon while assisting a tactical team in apprehending a suspicious person at the Thompson Center. His death has been ruled a homicide, and a suspect was charged in the murder.
Thousands descended on Chicago's Bridgeport neighborhood Saturday morning from across the city and around the country to say their final goodbyes to Bauer and remember his kindness, heroism and selfless service.
Nativity of Our Lord Church "swelled to capacity" for Bauer's funeral with more than 300 out-of-town police departments represented and the entire 18th District arriving "to lay their beloved Commander to rest."
"I saw each and every one of you from the darkened window of my car," Erin Bauer's letter read. "The good people in this world far outnumber the bad. Grace and I are humbled, as Paul would be. One man almost stole my faith in humanity, but the City of Chicago and the rest of the nation restored it and I want to thank you for that."
A 31-year veteran of the force, Bauer lived in the Bridgeport neighborhood and had led the 18th District on the city's Near North Side for the last two years. The loss has resonated across Chicago, leaving a deep void in the city he swore to serve and protect.
"I want you all to know how important it is for us, not just the police department but as a city, that we support his family, because they're leaning on us now," a visibly emotional Chicago Police Supt. Eddie Johnson said at a news conference hours after Bauer's death.
"His family paid a huge debt to keep the citizens of this city safe and we owe them," he continued. "We owe them. So moving forward, let's not forget the legacy of Cmdr. Paul Bauer."
Not long after, as Johnson addressed officers in Bauer's district, they pledged to care for their fallen colleague's family and "step in for Paul & take his young daughter to school from here on in," police spokesman Anthony Guglielmi tweeted.
"We owe him and his family to walk as many tomorrow days with them by their side, so that they know that we are the family of Chicago and that we love him and we love his courage on behalf of all of us, something he gave every day for 31 years," Chicago Mayor Rahm Emanuel said outside the 18th District station Tuesday night, asking all Chicagoans to keep his wife and daughter in their prayers.