Last Friday's coordinated attacks at public venues in Paris have led to beefed up security in Chicago.
A special tribute to the victims of terrorist attacks in Paris played inside the United Center before Monday's Bulls game. Outside the area, the consequences of the attacks were clear as increased police and security eased minds.
[[350818761, C]]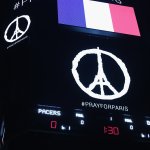 "It makes you nervous obviously, especially if you're going to things like the Bulls game where there's a lot of tourists and a lot of people," said spectator Julie Schoen.
Mayor Rahm Emanuel said Monday the city is taking some precautions, "whether that's in public venues like transportation to sporting events, but that said, there is no threat on Chicago."
Nevertheless, many K9 teams and officers patrolled Amtrak platforms. Extra personnel were also stationed at transportation hubs in the city and suburbs.
"It gives me a great peace of mind," commuter Aquila Bey said. "We have to be conscious each and every day that things are secure."
Security experts agree, emphasizing that people need to be vigilant now more than ever.
"This attack has clearly shown this terrorist group is targeting the innocence of our world," said Former U.S. Secret Service agent Arnette Heintze. "That reality was not lost on people enjoying a Monday night out."
"The hate inside of people that's happening, and that's what I'm scared of," said Chicagoan Rainy Dey Schenckloth. "These people just keep going and it's so hateful and it's happening everywhere."
"We try to be as cautious as we can but we also want to live our lives," said William Rosinia, who attended Monday's Bull's game. "You're playing into the hands of the terrorists if you go underground."