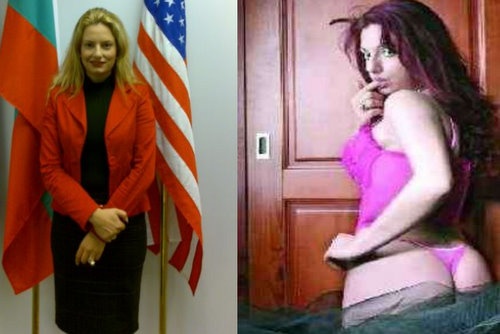 A Bulgarian diplomat appointed to that country's consulate in Chicago is getting attention for racy photos she posted to her web site.
Lila Georgieva, recently assigned to Chicago, first received scrutiny two years ago when she posted a suggestive photograph of herself -- looking back over her shoulder at the camera, clad only in pink lingerie -- to her web site (now defunct).
The rump-bearing diplomat was disciplined at the time, but now she's landed in Chicago, and some Bulgarian-Americans are none too pleased.
"These are art photographs and I do not think they cut across my duties," Georgieva said when the scandal broke the first time, back in 2007, to Bulgarian news site Novinite.com.
Last week, a television interviewer in Sofia, Bulgaria asked Prime Minister Boyko Borisov about her appointment. According to the Tribune, Borisov ducked the question, but the Bulgarian Embassy in Washington said at least three people have put their objections in writing.
There are about 30,000 Bulgarian-Americans living in and around Chicago, according to the Trib.