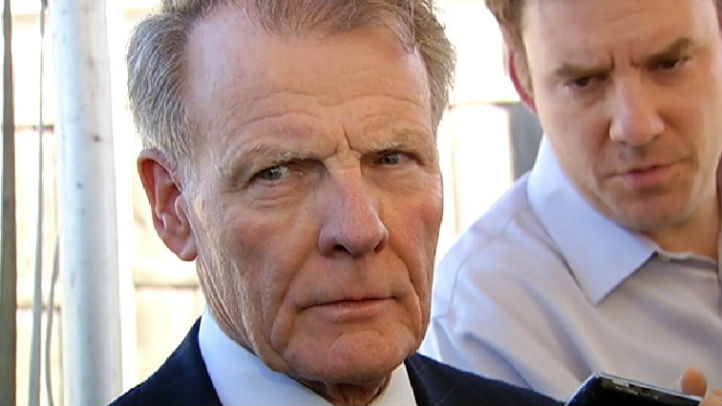 Already the longest-serving state House speaker nationwide, Chicago Democrat Michael Madigan has been elected to a 17th term.
The 74-year-old was voted speaker on Wednesday over Republican Jim Durkin 66-51. The vote was split along party lines, aside from Democrat Rep. Scott Drury who voted present.
The vote came as members of the 100th Illinois General Assembly were sworn into office amid a nearly two-year budget impasse.
Madigan tells fellow lawmakers that the last two years have been "extremely difficult" for the state, but there's a chance to move forward in the months ahead.
Republicans funded by Gov. Bruce Rauner had waged a campaign in recent weeks to urge House Democrats to reject Madigan. Madigan has been a state representative since 1971. He was elected speaker in 1983 and held the position for all but two years after.
Protesters, both for and against Madigan, rallied outside the venue.
Chicago Democrat John Cullerton has also been elected president of the Illinois Senate for a fifth two-year term.
Cullerton was elected by the Senate composed of 37 Democrats and 22 Republicans. Sen. Christine Radogno (ruh-DOHN'-yoh) of Lemont was elected minority leader after receiving a nomination for president as well.
The 68-year-old Cullerton is a lawyer who was elected to the House in 1978 and moved to the Senate in 1991.
He was elevated to the presidency in 2009 and immediately led the chamber through the impeachment trial of former Gov. Rod Blagojevich. Blagojevich was removed from office and later sentenced to federal prison for political corruption.
Cullerton's last term expired Tuesday after two years in which the Democratic-controlled General Assembly failed to reach a budget agreement with Gov. Bruce Rauner.
Copyright AP - Associated Press