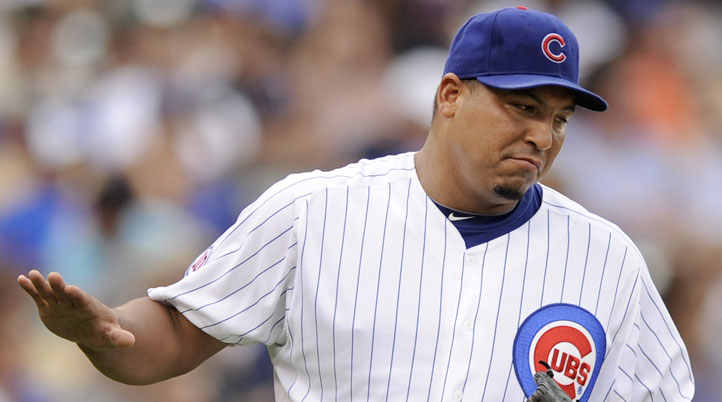 Carlos Zambrano may have left the Cubs for good this time.

The hot-headed pitcher has been traded to the Miami Marlins, according to several published reports. In return, the Cubs get native Floridian Chris Volstad, a first-round draftee in 2005.

The Cubs will pay $15 million of the $18 million remaining on Zambrano's contract, ESPN Chicago reported.

In moving, Zambrano joins his friend, former White Sox Skipper Ozzie Guillen.

Zambrano five months ago cleaned out his locker and said he was done with the team after a loss to the Atlanta Braves. He returned days later, telling a sports journalist that he wanted to remain a Cub and would be a Cubbie "for the rest of [his] life."

But new Cubs President of Baseball Operations Theo Epstein eluded that change may have been on the horizon during an interview earlier Wednesday with WGN radio.
"The Carlos Zambrano of 2011 and years previous can't fit into the culture that we have here. Change needs to happen and change will happen. Either he'll change and buy in and fit into this culture–and I understand there are a lot of skeptics around about that, and I understand that, and frankly, I'm skeptical as well."

"He needs to prove to us that he can change and be part of this culture or we'll change the personnel and move forward with people who are proud to be Cubs and treat their teammates with respect, treat the fans with respect and can be part of a winning culture in the Cubs' clubhouse."

Epstein had said in November that Zambrano would have to "earn his way back" to good graces with the team.

Zambrano finished last year 9-7 with a 4.82 ERA. The Cubs expected more when he signed a $91.5 million deal over five seasons through 2012, including a $17,875,000 million salary last season and $18 million in 2012. As part of the trade, they'll likely pay much of his salary.

Volstad went 5-13 last year with an ERA of 4.89, and his career record is 32-39. He has given up 69 homers over the past three seasons, which could mean trouble for him at Wrigley Field.

Zambrano is 125-81 with a 3.60 ERA after breaking in with the Cubs in 2001, and he threw a no-hitter against the Astros. But he had difficulty controlling his temper.

In 2007, he got into a fight with teammate Michael Barrett, first in the dugout and then in the locker room. Barrett ended up with a bruise under his eye and a cut lip.

In 2009, he went on tirade against an umpire, throwing a baseball into the outfield, pretending to eject the umpire and slamming his glove against the dugout fence, a tantrum that led to a suspension.

In 2010, Zambrano was placed on the restricted list for six weeks and sent to anger management after a verbal altercation with then-teammate Derrek Lee.
Copyright AP - Associated Press