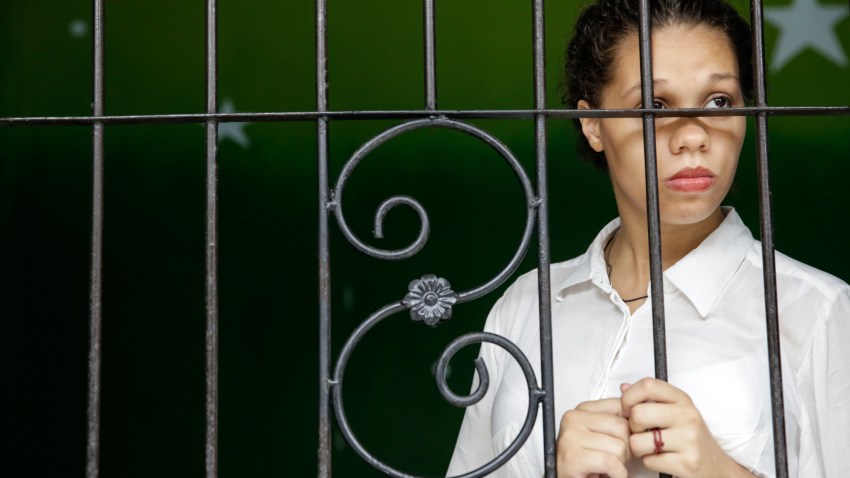 A young Chicago couple serving prison time in Bali for murder appear to have been the focus of a Federal investigation, according to a recently unsealed subpoena in which US law enforcement officials requested access to search an iPhone and MacBook computer for evidence.
While it is unclear where the investigation currently stands, the court document, filed last October, highlights several messages exchanged between Heather Mack's Facebook account and Tommy Schaefer's Facebook account in the weeks and months before Mack's mother, Sheila von Wiese-Mack, was found badly beaten and stuffed inside a suitcase at a posh Bali resort in August, 2014.
In the unsealed document, the FBI concluded there was probable cause to believe a foreign murder of a U.S. national had been committed and evidence in the form of emails sent by von Wiese-Mack to friends and family, communications between Mack and Schaefer and information related to the victim's murder were likely to have been stored within the devices.
According to the application for a search warrant, Facebook provided the FBI information showing a message riddled with typos was sent on May 26, 2014, from the Mack Facebook account to the Schaefer Facebook account stating:
Can you not tell people i asked you to kill my mom. Cause I was so *&!$%# up tommy and I really didn't mean it. Ive been regretting ever saying that so much and ive paid for it, shes almpst died like 5 times and ive been so petrified and scared
Also in the court document, Schaefer and Mack communicated via Facebook messages about von Wiese-Mack's apparent refusal to provide Mack with money to which Mack believed she was entitled. A July 25, 2014, message sent from the Schaefer Facebook account to the Mack Facebook account stated:
#$&! Your mom just take your money take that b*#$! to court and leave her on the street with 30%.
Spokespersons from the FBI and U.S. Attorney's office in Chicago declined to comment to NBC 5 Investigates.
The mother and daughter were vacationing in Bali when Schaefer arrived toward the end of their scheduled trip. Witnesses observed Mack arguing with her mother in the hotel lobby in the early hours of August 12, 2014. Von Wiese-Mack's body was discovered several hours later in a suitcase in the trunk of a taxi at the resort.
According to the subpoena, Mack made a phone call to the front desk of her condominium building in Chicago later that evening and asked the doorman whether anyone "weird" had come to the apartment building and stating words to the effect of "we were kidnapped, but we escaped".
Mack, 19, was convicted of murder earlier this year in an Indonesian criminal court. Schaefer, 22, was convicted of von Wiese-Mack's murder in a separate Indonesian court proceeding.
Mack gave birth to a baby girl, Stella, shortly before she was convicted and sentenced to ten years in prison. Schaefer is the baby's father. He is serving an eighteen year prison sentence. Mack is allowed under Indonesian law to raise her daughter in prison until the child turns two years old.
Attorneys representing Mack and Schaefer also could not be reached for comment.
Mack is involved in a court battle with her uncle, William Wiese, over access to a trust fund. The next court appearance for lawyers in the case is scheduled for October. However, they have agreed to meet with a mediator in an attempt to reach an agreement.