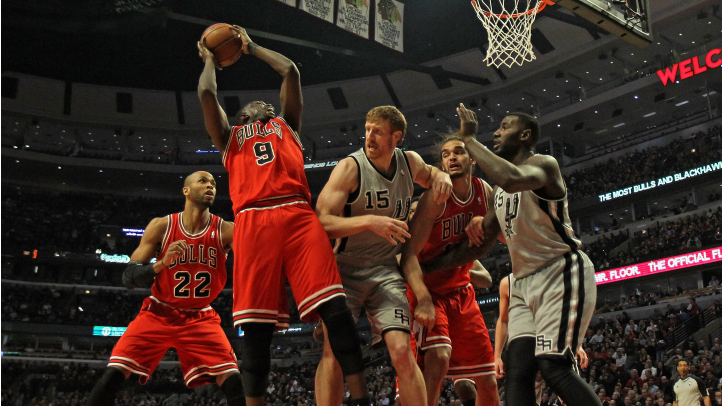 In a game being televised halfway around the world, the Chicago Bulls and San Antonio Spurs put on a relatively good show for the folks in China who tuned in to view the NBA's Chinese New Year festivities taking place in the Windy City. Considering there were no superstars on the court, Chinese basketball fans watching on their TV sets at home still had an opportunity to take in a great game.
Here in Chicago, however, Bulls fans were none too pleased as the Spurs came into the United Center with their three best players on the bench (Tim Duncan, Tony Parker, Manu Ginobili) and still came out on top, 103-89. The home team appeared at times to be in "All-Star Break" mode on the court.
The Bulls have performed well against some of the better teams in the NBA this season, but against the Spurs on Monday night, they just didn't seem to have it. Chicago put up a good fight and made the game interesting at times, but despite those efforts, San Antonio never relinquished control and the result was a loss in the Bulls' only home contest prior to the All-Star Game this weekend.
The Good
Chicago had four starters score in double-digits in the game, led by Nate Robinson (20 points, 7 assists, 3 steals) and Rip Hamilton (16 points). Joakim Noah (7 points, 15 rebounds, 5 assists) played well despite continuing to battle plantar fasciitis in his right foot, and Luol Deng (11 points, 11 rebounds) and Carlos Boozer (14 points, 8 rebounds) had solid games from an individual standpoint. Chicago out-rebounded San Antonio 49-26 with 17 of those coming on the offensive glass. The Bulls were also +10 on points in the paint (46-36) and +16 in second-chance points.
The Bad
San Antonio put on an impressive display of shooting at Chicago's expense. The Bulls allowed the Spurs to shoot 52 percent from the field and 50 percent from the three-point line. San Antonio also shot 85 percent from the free-throw line in the game.
The Ugly
It's not often you'll see a team go +23 in the rebound category and still lose a game, especially not the Bulls, but that's exactly what happened. The loss was especially embarrassing considering the Bulls essentially lost the game to the Spurs' bench. Chicago also shot the ball miserably from deep going just 2-12 from behind the three-point line. The Bulls also turned the ball over 19 times and the Spurs capitalized by scoring 29 points off those giveaways. Also, despite the pain in his right foot, Tom Thibodeau played Joakim Noah 38 minutes in the game, and Kirk Hinrich's infected right elbow kept him out of the lineup for the sixth consecutive game.