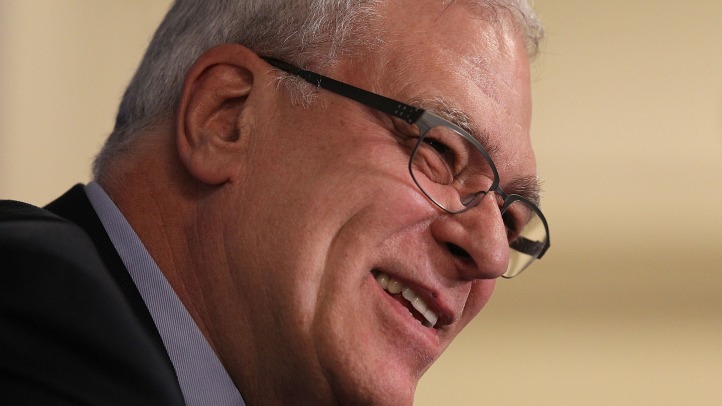 Phil Jackson took center stage Thursday night at the Palmer House Hilton to talk about his new book, "Eleven Rings," with Chicago Bulls beat writer K.C. Johnson. Nearly 800 people packed the Grand Ballroom to hear the winningest coach of all time discuss life and basketball for about 45 minutes, and afterwards, the coach signed copies of his new book for a number of lucky fans.
Jackson touched on a number of different subjects, including Derrick Rose, Tom Thibodeau and his days as coach of the Bulls and the Los Angeles Lakers. With that came a number of funny anecdotes that elicited laughs and applause from the crowd.
Here are a few highlights:
On Derrick Rose:
I think he's a terrific player with great heart – he's fearless. … There's an inner kind of gauge a player has about when he's able to play and the confidence about being able to do what he wants to do and be fearless on the court. Derrick never got to that point. He questioned it. He has an obligation to fulfill his contract and he should play if he's capable, but when you have a player of that status, who plays that way, with that kind of intensity and determination, he's got to be able to do what he does best.
On Tom Thibodeau:
Tom's a good coach. He really does a great job with this team. He works really hard with this team; I just hope it doesn't kill him.
On the triangle offense:
The triangle offense, the sideline triangle that we promoted all those years and thought was such a fine system, has really been denigrated over the last three or four seasons. A lot of people think it's too difficult an offense for present day basketball, and I don't think it's true. … You do so many things in the NBA today off the dribble and screen rolls, and not everybody is involved in the play. Whereas the system that I ran with Tex Winter who was with me and promoted that offense, everybody was involved. It's a very intricate team offense.
On the 1995-96 Bulls team that won 72 games:
That was a transcendent team. It was a team that changed the basketball format. Everybody was looking for a point guard – a Chris Paul or Isiah Thomas type guard that could lead – we went with two big guards. We went with Scottie Pippen and Ron Harper. Steve Kerr off the bench was our small guard at 6-3. … Our team was Harper, Pippen, Jordan, Toni Kukoc and Dennis Rodman playing whoever had to be played. We had a team where anybody could play any position, anybody could advance the basketball, and anybody was capable of scoring, except Dennis Rodman.
On Dennis Rodman:
Dennis was very serious about basketball, but he came late to the arena all the time. He would always get there an hour before the game – the rule was an hour and a half, but he just couldn't get there. So he would come in and say, "I don't have to shoot [before the game] because I don't do any shooting." Instead, he would get on a bicycle and lift weights and have a full sweat in about 20 minutes. Then he'd take a shower – usually we'd have our meetings 30 minutes before game time – and he'd come out and go to his locker and sit in the chair naked with just a towel over his head. So for the coaches and myself who were trying to give the plan of attack... Big distraction.