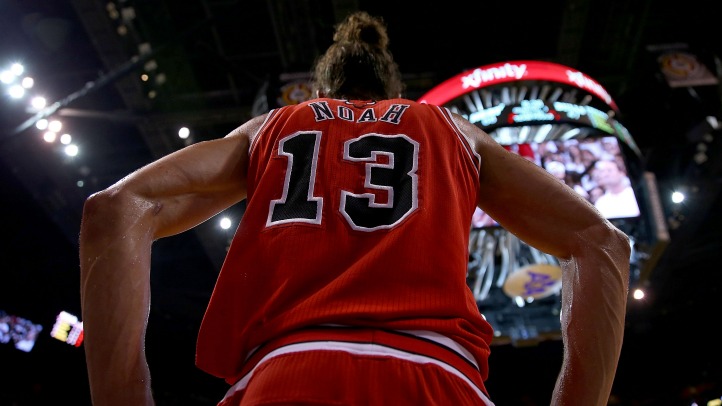 The 115-78 loss to the Miami Heat in Game 2 of the Eastern Conference Semifinals was the worst playoff loss in the history of the Chicago Bulls franchise. The Heat came out much more focused and aggressive than they did in Game 1, and the rust they showed in the opening game of the series was completely non-existent.
In a game that featured two ejections and six technical fouls seemed to set the "real" tone for the rest of the series. But despite the blowout loss, Joakim Noah isn't too concerned.
"We didn't play well, but it's not the end of the world," Noah told the Chicago Tribune after Game 2. "It's 1-1 and it's going to be a big Game 3 in Chicago."
The Bulls and Heat have no love lost between them, and that was evident on Wednesday night. But both teams do have a respect for one another and Chicago knows that nothing is going to come easy.
"We got one game," Taj Gibson said. "Every game is tough. That's a good team over there. They're the defending champs. Nothing is going to come easy. Just because we're going home doesn't mean anything. It's still going to be a tough game. We have to regroup. We can't relax."
"They played very well," Noah said. "They were very aggressive. They played very physical. They beat us in every aspect of the game. But we feel like we're capable of playing a lot better and we're very excited at the opportunity of playing Game 3 at home."
Game 3 takes place on Friday night with a 7 p.m. tip-off time.
Normal 0 false false false EN-US JA X-NONE /* Style Definitions */ table.MsoNormalTable {mso-style-name:"Table Normal"; mso-tstyle-rowband-size:0; mso-tstyle-colband-size:0; mso-style-noshow:yes; mso-style-priority:99; mso-style-parent:""; mso-padding-alt:0in 5.4pt 0in 5.4pt; mso-para-margin:0in; mso-para-margin-bottom:.0001pt; mso-pagination:widow-orphan; font-size:12.0pt; font-family:Cambria; mso-ascii-font-family:Cambria; mso-ascii-theme-font:minor-latin; mso-hansi-font-family:Cambria; mso-hansi-theme-font:minor-latin;} Follow Outside Shot on Twitter (@Outside_Shot) for more Bulls news and information