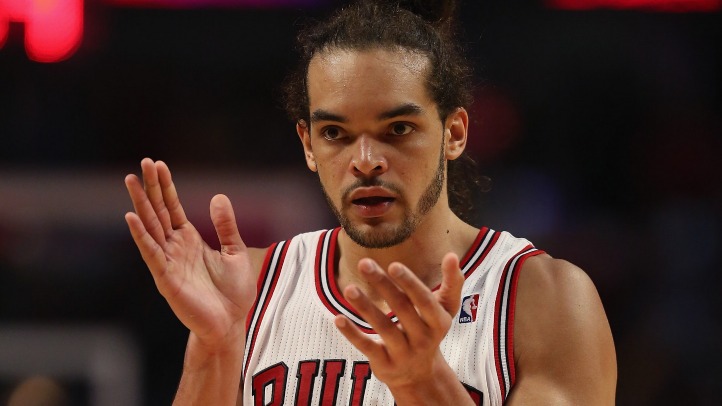 If anyone on the Chicago Bulls squad should be labeled a "mouthpiece," then that person -- logically -- should be Joakim Noah. Over the years, the Bulls big man (now going into his seventh year in the league) has made many a headlines with his very brazen and sometimes, off-the-cuff remarks.
But as the Bulls prepare to enter the 2013-14 NBA season with their superstar back in the fold in
Derrick Rose, many people have placed expectations on the team -- some reasonable, some not.

But Noah doesn't care about any of that; he has another goal in mind.
"Expectations don't mean anything," Noah told Bulls.com. "They don't help you win basketball games. We know what we have to do and we're excited. We just want the people to be proud."
It goes without saying that Bulls fans are proud of what the team accomplished last season in the absence of D. Rose. The team finished with a 45-37 record (second place in the Central Division and fifth place in the East). Noah was named an All-Star for the first time in his career while Luol Deng made the midseason classic for the second consecutive year.

In the playoffs, Chicago knocked off the Brooklyn Nets in six games – as a lower seed, no less – and took the first game from the Miami Heat in the two teams' second round matchup.
But team pride notwithstanding, and in a town hungry for another championship rally at Grant Park, fans are hoping this is the season the Bulls finally break through. And even though all eyes will be on Derrick Rose (for obvious reasons), Joakim Noah will once again be a critical component in the success of the team in 2013-14.
"We all know that this is going to be an exciting year," said Noah. "So I'm just trying to be as ready as possible for when it starts. We're very excited about getting our guys back. Everybody knows what's at stake. This is a big year for us and I just want to be as ready as possible for it."