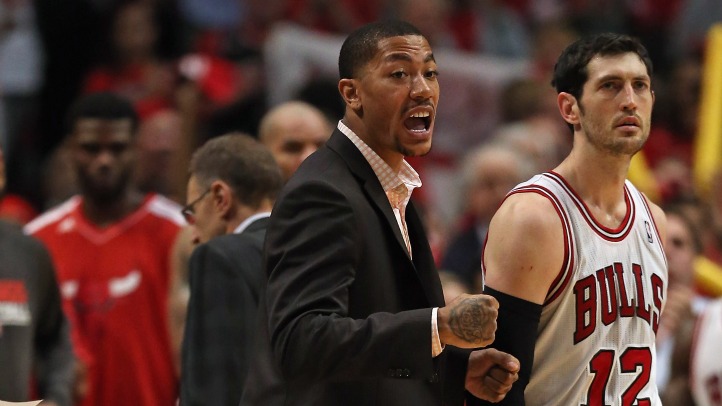 Derrick Rose hasn't played a minute of NBA basketball this season as he continues to take his time rehabbing from his torn knee ligament. But that lack of activity hasn't stopped him from being ranked in the top 10 of highest paid professional athletes.
On Wednesday, Sports Illustrated dropped their 10th annual 'Fortunate 50' which lists the 50 highest paid athletes in the United States. Headlining the list was boxer Floyd "Money" Mayweather with projected earnings in 2013 of $90 million.
Derrick Rose checked in at No. 7 with $33.4 million -- $16.4 million from his Chicago Bulls salary and another $17 million coming from endorsements. Rose is the third NBA player in SI's top 10 behind the Miami Heat's LeBron James, who was second behind Mayweather at $56.5 million, and Los Angeles Lakers superstar Kobe Bryant, who was fourth with $46.8 million.
Seeing D. Rose on this list may not make some Bulls fans happy, but it's still a pretty big accomplishment for someone who's only been a professional athlete for five years. Be sure to check the rest of the Sports Illustrated Fortunate 50, here.
Follow Outside Shot on Twitter (@Outside_Shot) for more Bulls news and information