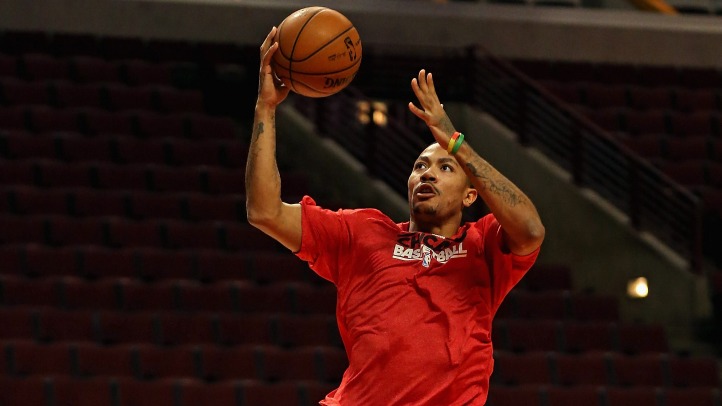 Derrick Rose was allowed to miss the scrimmage portion of Monday's training camp session at the Berto Center as a planned day of rest. On Tuesday, Tom Thibodeau gave the entire team the day off, but the group was back at it on Wednesday with two scrimmage sessions, both of which D. Rose participated in with no knee issues whatsoever.
Going up against your teammates is one thing, but for Rose, after taking a year off from the game, he's ready for the real thing.
"I'm just ready to go out there and play," Rose told CSN Chicago after practice on Wednesday. "Every day I'm getting stronger. I haven't had any setbacks, and I'm just looking forward to that day when I step back on the court."
That day will come on Saturday when the Bulls travel to Indianapolis to take on the Pacers, the team that many have picked to finish ahead of Chicago and, possibly, dethrone the Miami Heat. Rose is looking forward to the challenge of playing his first NBA game since April 2012, even if it is just a preseason contest.
"I will just go out there, play my game, play aggressive. My guys, the rest of my team, they're already in a rhythm and putting me into the equation, I'm just trying to get my rhythm back and go out there and try to play a simple game but play aggressive," he said. "If I feel like I see an opening or whatever, I will take it. That's why in practice I try to be so aggressive to the hole, getting guys open to put them in the right position to make shots. I've been doing a lot in practice. I'm getting to the foul (line), making my shots and just trying to run a team and control the game."
For many, the focus will be on Rose, but Thibodeau will be focused on the entire team, especially the starting five, which of course, his star point guard will be a part of.
"It's not only Derrick. It's the entire team. We're going to be looking at a lot of different things," said Thibodeau. "It'll be his first game back, but we're going to look at how that unit performs together. It's the preseason. We want to look at some guys to see what they can do, and it's a good way to evaluate."