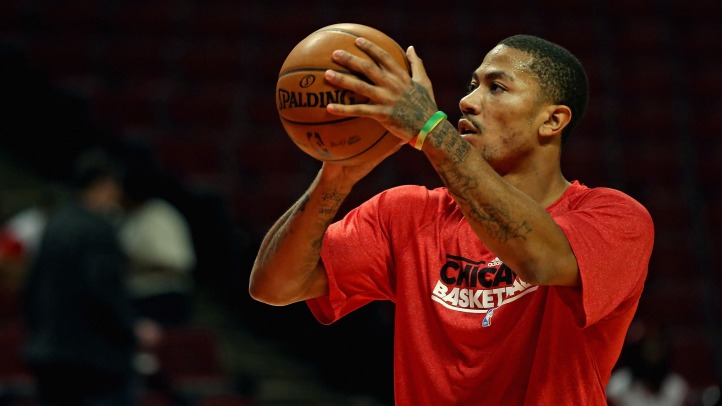 The long awaited return of Derrick Rose to the basketball court took another positive turn when the point guard was medically cleared to play again. But the comeback still may not happen in the near future.

Despite the medical green light, Rose still doesn't feel confident in his ability to dunk off his left leg and therefore won't play again until he feels he can, a source told ESPN Chicago.
According to the source, D. Rose "has been practicing and scrimmaging hard" but has informed the team that "until he feels 'in his mind' he can confidently dunk off his left foot in a game situation, he is not 100 percent mentally ready to return to competition."
It all but confirms what has been said for some time now that Derrick is healthy enough to resume playing, but mentally, he's just not ready to take the court again. This echoes the
words of Dr. Brian Cole
who, after completing Rose's ACL surgery, said the star's biggest hurdle will be mental, not physical.
"If you look at the reasons athletes do or do not get back to their pre-injury level of play, there's no question the psychological point is part of it," Cole said.
The Bulls are currently in sixth place in the Eastern Conference with 21 regular season games left on the schedule.
While many have started to become increasingly unoptimistic that Derrick Rose will play again this year, the Bulls are still hoping for a mid-March return for their superstar and franchise player.
The team has told Rose that they'll be supportive of any decision he makes – even if it is to sit out the regular season – but would like for him to come back soon so that he can, "get it under his belt, rather than wonder all summer if he could."
Follow Outside Shot on Twitter (
@Outside_Shot
) for more Bulls news and information