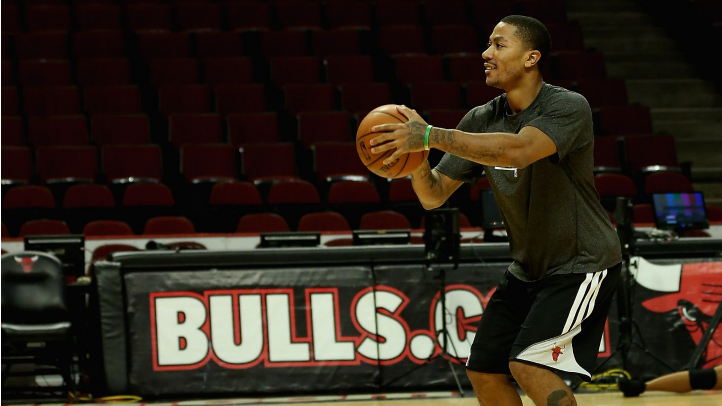 You can't talk about the Chicago Bulls this season without discussing Derrick Rose and his return to the basketball court. Lately, many have accused the front office of being purposefully ambiguous about Rose's status and exactly how close he is to coming back.
Tom Thibodeau isn't saying much, Rose's teammates are saying even less, and the team brass is saying less than that. But in his first extensive interview since the Bulls held media day in October, D. Rose shed some light on his recovery process with USA Today, and not even he seems to know when he'll make his comeback.
"I don't have a set date," Rose said. "I'm not coming back until I'm 110 percent. Who knows when that can be? It can be within a couple of weeks. It could be next year. It could be any day. It could be any time. It's just that I'm not coming back until I'm ready."
Rose's words ring almost identical to what team chairman Jerry Reinsdorf has said all along: He won't allow Rose to play again until doctors have cleared him medically and have given assurances that the risk of re-injury is minimal to non-existent.
D. Rose was asked to give his opinion on how close he feels he is to that 110 percent mark and his answer, while encouraging, probably won't be one that Bulls fans want to hear.
"Right now, probably in the high 80's. Far away. Far away."
Fortunately, the Bulls are playing well enough that they don't necessarily need him to come back right now, but how close he is to making up that final 30 percent or so is anyone's guess. However, Rose feels that once he does return to the court, he'll be able to make an impact and the point guard seems generally pleased with the progress he's made.
"With all this hard work I've been putting into my game, I'm doing stuff I never did before. I gained 10, 11 pounds of muscle. I don't know what type of player I'm going to be. I just know that I'm going to be very good."
Follow Outside Shot on Twitter (@Outside_Shot) for more Bulls news and information.