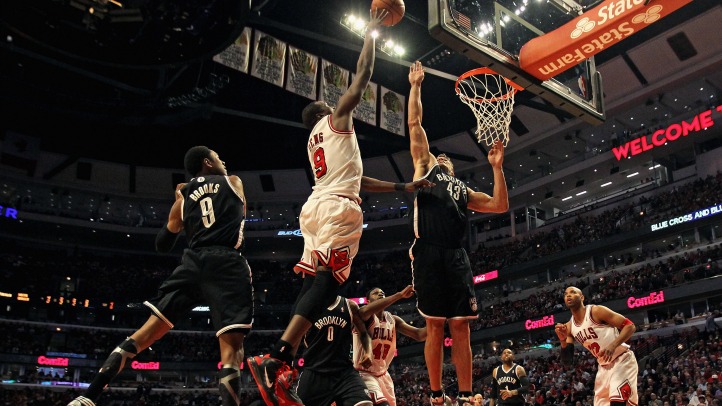 The old cliché of "in the NBA, everybody makes a run" was never more evident than it was on Thursday night in Game 3 between the Chicago Bulls and Brooklyn Nets. Fortunately, the Bulls were able to withstand the Nets' fourth quarter surge and now take a 2-1 lead in the best of seven series with a 79-76 victory.
Chicago is clearly in the driver's seat with one more game being played at the United Center on Saturday before the two teams alternate venues for the last three games of the series, if necessary. Fans of the team should feel confident right now that the Bulls can defeat the Nets and advance to the second round.
But in the same token, they should be wary of Saturday's Game 4, which is an afternoon matinee, and the team doesn't seem to play very well on games which are held during the day.
The Good
Carlos Boozer (22 points, 16 rebounds) continues to be the best player on the court for the Bulls in this series. Although his playoff performances have been the subject of much controversy over the last few years, it's hard to have any complaints about the way he's played in this series. Luol Deng (21 points, 10 rebounds) may have had the play of the night when he crossed over Gerald Wallace and made him fall to the floor before burying a deep three-point jump shot. Kirk Hinrich (12 points) had another solid offensive outing as well.
The Bad
After a slow start early in the first quarter, the Bulls asserted themselves and pretty much had control of the game until the fourth quarter when the Nets outscored them 24-14. Brooklyn also established themselves in the paint, outscoring Chicago 38-26 in the game.
The Ugly
The shooting on the part of both teams was atrocious. Chicago finished with a field goal percentage just under 40 percent and shot just 20 percent from the three-point line, connecting on just three of their 15 attempts. They were also pedestrian at the free-throw line shooting just under 67 percent. The Bulls also gave up 18 points to the Nets on their 15 turnovers in the game. Jimmy Butler (four points, four rebounds) didn't have the best night offensively, going just 1-5 from the field. Joakim Noah (one point, eight rebounds) also had an off night, going 0-7 on his field goal attempts.
Normal 0 false false false EN-US JA X-NONE /* Style Definitions */ table.MsoNormalTable {mso-style-name:"Table Normal"; mso-tstyle-rowband-size:0; mso-tstyle-colband-size:0; mso-style-noshow:yes; mso-style-priority:99; mso-style-parent:""; mso-padding-alt:0in 5.4pt 0in 5.4pt; mso-para-margin:0in; mso-para-margin-bottom:.0001pt; mso-pagination:widow-orphan; font-size:12.0pt; font-family:Cambria; mso-ascii-font-family:Cambria; mso-ascii-theme-font:minor-latin; mso-hansi-font-family:Cambria; mso-hansi-theme-font:minor-latin;} Follow Outside Shot on Twitter (@Outside_Shot) for more Bulls news and information