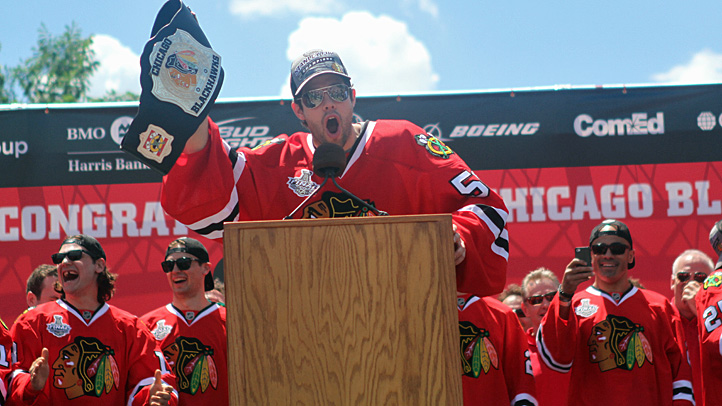 Throughout the month of July, Madhouse Enforcer will be taking a look at various members of the 2013 Stanley Cup champion Chicago Blackhawks. What did they do right? What did they do wrong? What can they improve upon next season? We'll answer all those questions and more in the lead-up to Blackhawks Convention, which starts July 26th.
We'll be engaging in a goaltending double-dip over the next few days, with Corey Crawford first out of the blocks.
The Good:
When your back-up racks up a 17-1 record, it can't be easy to stay confident enough to hold onto your starting spot, but that mental fortitude is perhaps Crawford's biggest takeaway from 2013.
Crawford's 19-5-5 record in the regular season was obviously a very good mark, as was his 1.94 goals against average, which was enough to get him a share of the William Jennings Trophy with Ray Emery. Those numbers fail to do justice to how many times during the season that Crawford faced adversity, and just like his teammates, was able to come through even when times were darkest.
A great example of this came in a game on March 14th in Columbus against the Blue Jackets. The Hawks were coming off of their first two regulation losses of the season, and there was a ton of media scrutiny over how the players would react to their first taste of adversity.
In that game, Crawford stood tall as Columbus racked up quality scoring chances. His poise while his teammates were trying (and largely failing ) to solve Sergei Bobrovsky (who ended up making 39 saves in the game) helped the Hawks to scratch out a hard earned point, and when Crawford was able to stop shots from Ryan Johansen and Derick Brassard in the shootout, the Hawks picked up a second point as well.
It was those kinds of performances under duress that defined Crawford's season, but his ability to adjust his game on the fly has to be noted as well.
Obviously, a great deal of attention was paid during the Stanley Cup Final to Crawford's "weakness" on his glove side. Game 4 of the series brought the issue to the fore, when Crawford gave up a slew of tallies on shots to that side.
After that game, Crawford seemed to find his form. He came out of the crease a bit more aggressively in the series' final two games, and by cutting off shooting angles for the Bruins' attackers, Crawford forced their hand and enabled himself to make much easier saves.
That ability to tweak his approach made Crawford an indispensable asset for the 2013 Blackhawks, and helped propel the team to a Stanley Cup championship.
The Bad:
If there is one negative of Crawford's game, it's that he can't seem to handle the puck well behind the net.
Quite a few NHL goaltenders do have issues in this area of their game (including Phoenix's Mike Smith), but Crawford always looks unsure of himself when he skates into the trapezoid, and that uncertainty is something that he must address.
We did allude to Crawford's issues with his glove in the Stanley Cup Final, but a particular goal in Game 4 is a good reminder of another area that Crawford struggled in. On Boston's first goal of the game off the stick of Rich Peverley, Crawford was handcuffed by the precise East-West passing attack by the Bruins, and wasn't even able to get set before Peverley unleashed the shot.
Getting into a good position is something that any goaltender must do in order to be successful in the NHL, and while Crawford by and large is a good technical goalie, he needs to make sure that he continues to work on his post-to-post movement.
Best Game of 2013:
There are a slew of contests that one could choose from, including his 1-0 shutout win over the Blue Jackets in February, or his 32 save performance against the Red Wings on March 3rd, but one game in the Stanley Cup playoffs set the tone for Crawford, and it was Game 1 against the Wild.
After giving up an easy goal to Cal Clutterbuck in the opening minutes of the game, Crawford settled down and ended up making 26 saves as the Hawks finally solved Minnesota goaltender Josh Harding in a 2-1 victory.
The win was a perfect microcosm of Crawford's season, and propelled him to the playoff performance of his life.
Outlook for 2013-14:
With Emery's departure, the net in Chicago truly belongs to Crawford. The team has always expressed utmost confidence in his abilities, and with Nikolai Khabibulin not figuring to get more than 20 or so starts this season, the onus will be on Crawford to deliver.
Obviously, his performance in the playoffs would indicate that he is a clutch performer, but replicating that feat over a season with peaks and valleys is a challenge for anyone, and with an expiring contract at the end of the campaign, the pressure will be ratcheted up that little bit extra for Crawford.
If he can cut back on his tendency to give up early soft goals in games, and if he can do the little things like handling the puck and controlling rebounds well, then the meter will continue pointing up for him.