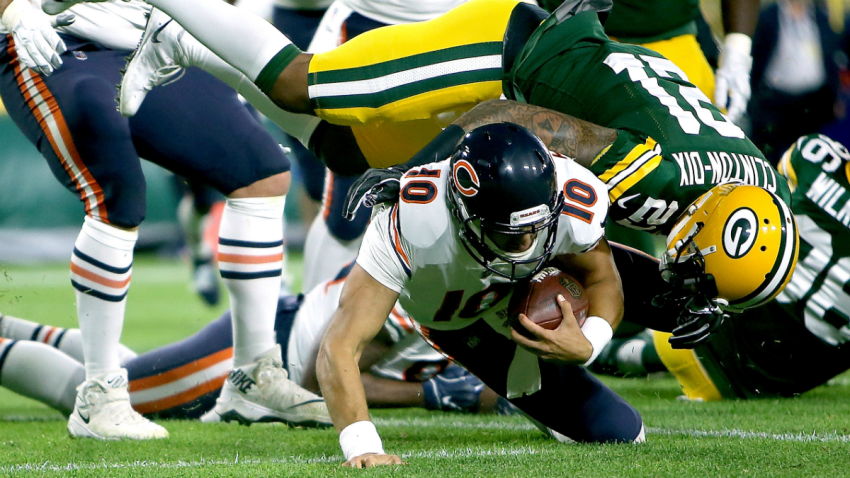 The Chicago Bears looked like they were cruising to an opening week victory over the Green Bay Packers, but Aaron Rodgers had other ideas as he led the team to an incredible comeback victory.
The Bears had a 17-0 lead at the half and led 20-0 in the third quarter, but Aaron Rodgers, who left the game with an injury in the second quarter, came back and led his team to a win at Lambeau Field.
Rodgers threw for 286 yards and three touchdowns in the win, and Randall Cobb scored a long touchdown late in the fourth quarter to lead their team to the victory.
Defensive end Khalil Mack picked up his first sack as a member of the Bears and returned an interception for a touchdown in the second quarter as he made a massive impact in his first game with the team.
Mitchell Trubisky threw for 171 yards and rushed for a touchdown in the game, and Allen Robinson caught four passes for 61 yards in his Bears debut.
The Packers were down 20-0 early in the third quarter when Rodgers came back on the field, and after a Mason Crosby field goal late in the frame, the quarterback came to life.
Just one minute into the frame, Rodgers found Geronimo Allison for a 39 yard touchdown pass to make it 20-10. Just under five minutes later, Davante Adams got in on the action, hauling in a 12-yard pass to cut the Bears' lead to three.
Cody Parkey hit a 32-yard field goal with about two and a half minutes to go, but the Packers answered within 26 seconds, as Rodgers found Cobb at midfield, and the receiver did the rest as he scampered home for a staggering 75-yard touchdown reception and a 24-23 lead.
The Bears had the ball back late, but even after a Clay Matthews roughing the passer penalty, Trubisky and company couldn't finish the job, turnijng the ball over on downs and ending the game.
The Bears will head home to Soldier Field next week, as they take on the Seattle Seahawks on Monday Night Football for their home opener.