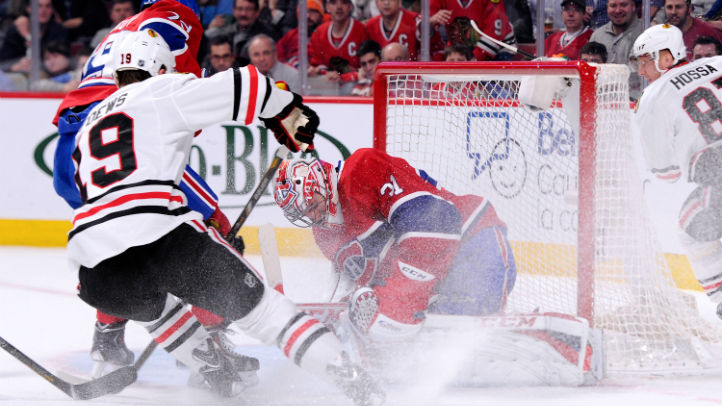 Andrei Markov scored two goals, including at 1:28 of overtime, to lead the Montreal Canadiens to a 2-1 victory over the Chicago Blackhawks on Saturday night.
Markov took a deflected pass from Max Pacioretty and found the roof of the net.
Carey Price finished with 19 saves for Montreal.
Marian Hossa scored for the Blackhawks. Corey Crawford made 36 saves for Chicago.
Chicago has lost three games in a row, including two in overtime, for only the second time this season.
The Canadiens couldn't capitalize on back-to-back tripping penalties by the Blackhawks midway through the first period as Crawford made two quality saves to preserve the scoreless draw.
After a few close calls by the Blackhawks to start the second period, including Patrick Sharp missing an open net high and wide, and Patrick Kane hitting the crossbar, Markov broke the deadlock at 12:54 for his fourth of the season.
With 6-foot-5 Habs enforcer George Parros screening him, Crawford couldn't react quickly enough when Markov's wrist shot flew past his blocker.
Then came Crawford's shining moment. With P.K. Subban in the penalty box for delay of game, a sprawled-out, stickless Crawford robbed Lars Eller from close range with the blade of his skate. Montreal outshot Chicago 3-1 on the Blackhawks' only power play.
Chicago tied it at 9:22 of the third when Hossa deflected a Jonathan Toews pass over Price's outstretched pads. Sharp also got an assist on the goal.
Bryan Bickell hit the post to Price's left with just over a minute to play in the third period.
The Canadiens have won six in a row against the Blackhawks as the host team. Chicago's last win in Montreal was on Dec. 3, 2001.
Notes: The Blackhawks had a 10-game point streak snapped after a 3-2 loss to the New York Rangers on Wednesday. ... Parros returned to the lineup and defenseman Francis Bouillon was a healthy scratch. ... The teams face off again on April 9 in Chicago.
Copyright AP - Associated Press