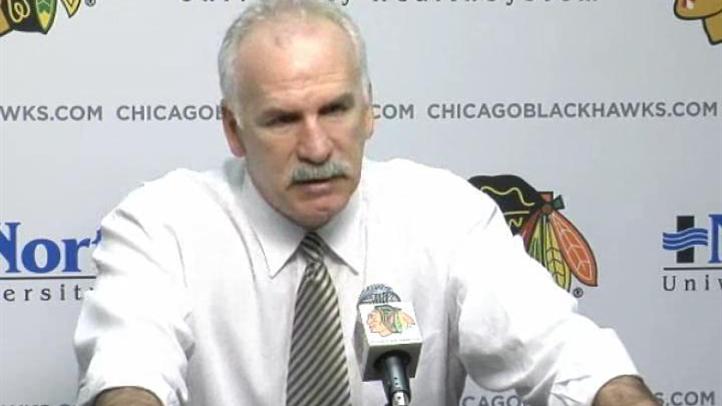 Q is absolutely the guy going forward.
That was the quote today from Stan Bowman after the Hawks' lost weekend. I try to be the most reasonable guy around when I can, but after witnessing whatever performance art that was from the Hawks on the weekend and over the whole road trip, I just can't agree.
There are a couple caveats here. One, no coach is going to perform miracles with goaltending that is far and away the worst in the league. The penalty kill will never be good if the goalie can't stop the simplest of shots or move as if he's not been tossed into a swamp. The defense will always be scrambling if it's in utter terror of letting any shot be taken. A team's confidence will always be shaky. There's no getting around any of that.
Second, there just might not be a suitable replacement. Third, if you fire a coach and the team still doesn't rebound, when eyes fix on the roster that means they're also fixing on the GM who built it. Bowman would essentially be offering himself up next for a whacking, and we don't know if he's got the gumption to do that. And lastly, Q was saddled with having to give Nick Leddy, who was in no way ready for it, more responsibility than he could handle. But it's not clear if that was Q's or Stan's call.
But the signs are all too clear. First of all, the team and coach have harped for weeks now on getting the defense tightened up. And yet not only hasn't it, it's gotten worse in each game. Either the team isn't listening, freelancing on its own, doesn't have the faith in the coach's system or instructions, or all of it. There's no coming back for that.
Second, the team has soured on Q's only trick, which is line shuffling. Michael Frolik went from healthy scratch to top line winger back to healthy scratch in the span of three games. That suggests panic and a lack of answers, and the team clearly sees that.
But most of all, the disconnect between the GM and coach couldn't be clearer. Quenneville erased two of Stan's offseason pickups from training camp in Steve Montador and Sami Lepisto. They were never given a chance, and now have no ideas or confidence. And these were more than serviceable players in their careers. Another, Andrew Brunette, was brought in as a "Q guy", having played for him. He was banished to the fourth line within a month.
The power play tries the same predictable and dysfunctional tactics, and as bad as things have been that unit could have brought the Hawks a win or two. That's simply stubborness, and even the players can see it doesn't work. The past few games it has looked like it has no organization at all. But Q doesn't try anything else.
With that quote, either Stan has admitted he doesn't think the team he has built is good enough, or now everyone's on notice. I doubt it's the former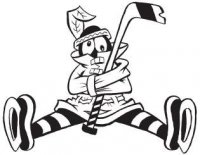 Sam Fels is the proprietor of The Committed Indian, an unofficial program for the Blackhawks. You may have seen him hocking the magazine outside the United Center at Gate 3. The program is also available for purchase online. Fels is a lifelong 'Hawks fan and he also writes for Second City Hockey .