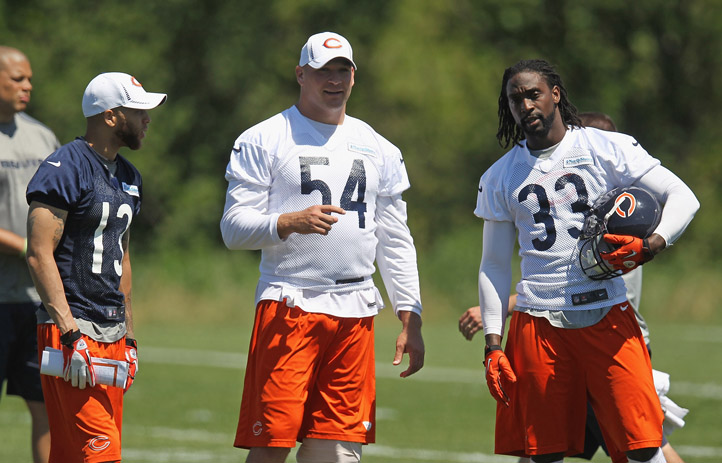 Bears fans, I understand if you're a bit worried about Brian Urlacher's knee surgery. You're concerned that a 34-year-old man may not recover as quickly as the team is saying. You're not feeling a swell of optimism.

But after watching the Olympics Closing Ceremony, let's take Eric Idle's advice and always look on the bright side of life.

There are positives of Urlacher's absence.

-- More seasoning for Nick Roach: As he is showing this pre-season, Urlacher will not last forever and is not indestructible. The Bears have to prepare for life without him. Though it's nice to think the perfect free agent linebacker will fall out of the sky, it's a better bet that the Bears will develop the man to replace him. Roach getting more playing time will make him better prepared for when he does need to fill in.

-- Other members of the defense will have to step up: Urlacher is the lynch pin of the Bears defense. He gets takeaways, tackles and sacks, contributing to every part of the defense. Without him, the other parts of the defense will have to show just how good they are.

-- Time off has benefited him before: Urlacher's worst season was in 2008. He had just 79 tackles, no sacks and no takeaways. In the first game of the 2009 season, Urlacher injured wrist and didn't play for the rest of the year. Since then, he's returned to the Urlacher of old.

-- It's still the pre-season: Like Charles Tillman, we'll miss Urlacher's bald head. However, the Bears have only played one pre-season game. It's a long season, and the Bears have plenty of time until they have to panic about life without Urlacher.
Copyright FREEL - NBC Local Media