The Tampa Bay Lightning's stadium has just about the coolest feature in sports. The team shoot off two Tesla coils that produce actual lightning bolts after Lightning goals.
This could, of course, end in disaster and maybe a seizure or two, but it's pretty heavy metal and I love it.
They Blackhawks will need to get excited about the Lightning, too because the team comes with a lot more firepower than the yard sale that is the Florida Panthers, whom they played Thursday.
Giving up 43 shots to the likes of Steven Stamkos and Vinny Lecavlier will only end in tears dropping into empy beer cups for Hawks fans, and possibly players.
Tampa hasn't had the easiest start to the season. They're only .500 at 5-5-2, and in the NHL's record system where everyone kid gets a trophy, .500 isn't really .500. They're shipping goals, partly because their starting goalie Dwayne Roloson isn't very good without his cane at 42 so far this year, and part of it is the defense in front of him is being pilfered for 32 shots per game. Coach Guy Boucher's mystery system of the genius just hasn't locked in yet this year. Could be a blip, it's only a month into the season so there aren't any definitive answers yet.
That doesn't mean the Lightning can't run and gun with you when their defense fails. They're top 10 in goals-scored, and with Lecavlier, Stamkos, Martin St. Louis, Teddy Purcell, Ryan Malone and a couple others the Ning have a lot of weapons. The Hawks will have to avoid penalties which have creeped into a couple games recently, because this power play is a real problem with Stamkos lining up for the one timer from Olympus that results in his 40+ goals seasons.
The Hawks have a chance here to open up even more in the division. All the teams in the Central are stumbling at least a bit, and tonight could end with a nine-point gap on Detroit, who everyone agrees is the main Central competitor. While it's still so early, if the Hawks can open up a real gap in the next couple weeks, it is still a real obstacle for the chasing pack as the season wears on. It's almost Sisyphian to try and make up ground in the NHL with the three-point games on offer. We learned this last year, didn't we?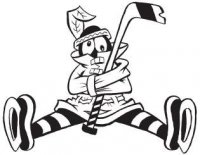 Sam Fels is the proprietor of The Committed Indian, an unofficial program for the Blackhawks. You may have seen him hocking the magazine outside the United Center at Gate 3. The program is also available for purchase online. Fels is a lifelong 'Hawks fan and he also writes for Second City Hockey .