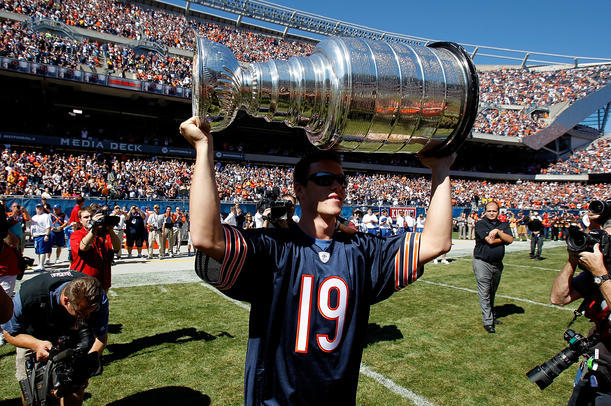 With training camp slated to begin this week, members of the Chicago Blackhawks are slowly making their way back to the Windy City, and they've been popping up at events all over town.
On Saturday, players Andrew Shaw, Bryan Bickell, and Brandon Saad all attended Blackhawks Night at the Northwestern Wildcats' home opener at Ryan Field, and were on hand to see the Wildcats knock off the Syracuse Orange in emphatic fashion.
On Sunday, the gridiron tour continued, as captain Jonathan Toews, Conn Smythe winner Patrick Kane, Patrick Sharp, and a slew of other Hawks players descended on Soldier Field for the Chicago Bears' home opener against the Cincinnati Bengals.
Anthem singer Jim Corneilson was on hand to provide a stirring rendition of the Star Spangled Banner....which was touted by the Bears Twitter account:
Soldier Field crowd going nuts as Jim Cornelison sings the National Anthem. #Bears #CINvsCHI — Chicago Bears (@ChicagoBears) September 8, 2013
But wasn't carried on CBS' coverage of the game.
At any rate, the Hawks' visit to the stadium where they will play a March game against the Pittsburgh Penguins was still well documented by reporters and players alike:
#BearDown #BetterQBThanTebow pic.twitter.com/aszQGwijsZ — Jonathan Toews (@19JToews) September 8, 2013
The boys on the field at the bears game! http://t.co/AMYDEGEnfn — Andrew Shaw (@shawz15er) September 9, 2013
#Blackhawks watching #Bears: pic.twitter.com/1IDKsGSpaZ — Zach Zaidman (@ZachZaidman) September 8, 2013
The Bears ended up winning the game by a score of 24-21, but it's unlikely that the Hawks will be able to match that score against the Penguins early next year.