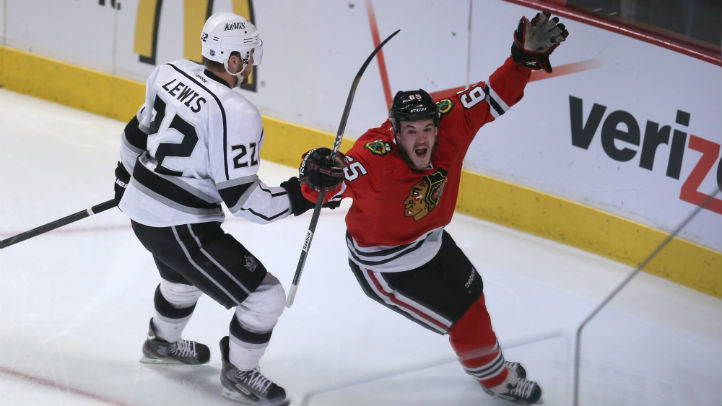 The Chicago Blackhawks did something on Sunday night that no team has been able to do against the Los Angeles Kings in 35 consecutive playoff games: scored more than three goals.
Thanks to goals by Andrew Shaw, Brent Seabrook, Bryan Bickell, and Michal Handzus, the Hawks knocked off the Kings 4-2 and took a 2-0 lead in their Western Conference Finals matchup.
Corey Crawford had a stellar night in net, stopping 24 shots, and the Hawks won their fifth straight game in convincing fashion.
We'll have plenty of coverage in the next few days as the Hawks prepare to fly out to Los Angeles, but for now, here are Sunday's Three Stars:
Third Star: Patrick Sharp
Sharp has been all over the ice for the Blackhawks in the first two games of this series, and he was especially noticeable in Game 2.
Not only did Sharp have two assists for the Hawks in the contest, but he also had three shots on goal and fired three more at the net, just barely missing the cage. He also dished out two hits and won both faceoffs that he took in the game.
Before the series began, a lot of pundits said the Hawks were going to need to get more production out of their stars, and Sharp must have taken those messages to heart.
Second Star: Brandon Saad
Saad still hasn't scored a goal in these playoffs, but anyone who has watched him over the past few weeks has noticed a definite uptick in his play.
Saad assisted on two Blackhawks goals in this game, including a great behind-the-back pass that set up Shaw's first period tally. He also had two shots on goal, two hits, and played some significant time on the power play for the Hawks.
Clearly head coach Joel Quenneville has gained his confidence back in this young forward and the Calder Trophy nominee is one of the biggest reasons the Hawks are heading to Hollywood with a 2-0 lead.
First Star: Corey Crawford
What more really needs to be said about Crawford at this point in the playoffs?
Not only did he manage to turn away 13 different Kings shots in the first period, but he also kept the good play going throughout the rest of the game. His brightest moment came in the third period, however, and he didn't even get credit for a save on it.
Jonathan Toews took a shot to the back from Kings forward (and former Blackhawk) Colin Fraser, and when Michal Rozsival was distracted attending to him, Kings forward Kyle Clifford came up and starting antagonizing Toews. Seeing this, Crawford wrapped Clifford up in a bear hug, and kept the two players separated until officials could skate over to them.
Nothing could have been a more perfect microcosm of how confident Crawford is, and how much his team means to him. Toews even had to tip his cap to Crawford, skating over to him after the play and tapping him on the backside in appreciation.
It was a great moment in a game full of great moments for the Hawks, and they are full of confidence with a 2-0 lead.